25 Jul 2023
15 Ecommerce Trends Changing the Way We Shop
The global eCommerce industry has undergone tremendous changes over the years. It is expected to reach $70.9 trillion by 2028 with a CAGR of 27.38% during 2022-2028. To keep up with this ever-changing eCommerce industry and stay competitive, online businesses must stay updated with the latest trends governing the eCommerce sector and be aware of customer demands.
In this post, we have narrowed down the top 15 biggest eCommerce trends that will affect most businesses in the coming months.
E-commerce trends are shifts in the online retail industry that influence how eCommerce businesses market their products or services, engage with their customers, and operate their businesses. These trends are prevailing patterns and emerging practices that govern the eCommerce landscape. By adopting these eCommerce trends, Shopify stores can stay competitive, provide exceptional user experiences, and drive business growth.
Shopify eCommerce trends are crucial because they provide valuable insights into the evolving landscape of online retail and the eCommerce industry. It helps businesses adapt their strategies to meet customer expectations, stay competitive, and drive growth.
As Shopify is a leading eCommerce platform, its trends reflect the industry's direction. Understanding and implementing these latest trends helps businesses to leverage emerging technologies, optimize customer experiences, explore new sales channels, and enhance marketing tactics. Thus, helping them stay relevant, attract and retain customers, improve conversions, and ultimately maximize their growth and success in the dynamic eCommerce world.
Mobile shopping will continue to remain an eCommerce trend considering the growing number of mobile internet users. Did you know over 79% of smartphone users have used their mobile phones to make purchases? Hence, you must invest in mobile-first strategies to attract and engage this mobile traffic and make their shopping experiences more convenient than before.
This includes eCommerce website optimization for mobile devices, such as optimizing the website speed, simplifying the checkout experience, updating product pages with detailed descriptions, adding customer reviews, integrating with mobile payment systems, and more.
By making the eCommerce shopping experience comfortable on mobile devices, you encourage your customers especially millennials and GenZ to make their purchases using their mobile gadgets.
With over 60% of traffic coming from various social media networks, it is essential to include social media as an effective retail sales channel. It helps you attract a vast pool of potential clients through appealing brand content and paid advertisements that drive customer engagement and loyalty.
Social commerce aids in product discovery and helps you in raising awareness about your products or services. The introduction of shoppable posts on various social platforms, such as Instagram and Facebook makes it easy for customers to place their orders on social media. This simplifies their buying journey by meeting the comfort needs of your customers.
Lastly, social commerce offers you numerous chances to collaborate with industry experts via influencer marketing and get discovered by the desired target audience.
The traditional one-size-fits-all marketing tactics do not work anymore. Delivering custom and personalized shopping experiences is the need of the hour. 80% of customers wish to purchase from a business that offers excellent personalized experiences. So, investing in a personalization strategy for your brand will not only attract desired customers but also retain them.
Devise a strategy to deliver the best experiences to your customers using tech personalization tools, such as personalized product recommendations, content suggestions, deals and discounts, and more. This helps you identify a perfect balance between finding what your customers need and how you can sell your products or services to them.
Personalization aids in customer retention as you engage and interact with them through personalized offerings, targeted content, and tailored deals.
Artificial intelligence (AI) will help you in learning customer behavior by collecting data related to their preferences, buying habits, product requirements, and more to craft an unforgettable shopping experience for your customers. It can analyze large volumes of customer data from various sources using machine learning algorithms to uncover patterns and trends for forecasting customer behavior and anticipating future needs.
With the help of natural language processing, it helps you interpret customer interactions from various channels and gauge their thoughts about your brand. Because of its innate capabilities, AI helps you make important data-driven decisions without any hurdles. No wonder, the global AI industry is expected to reach $1871.2 billion by 2032.
With rules for data privacy and security becoming more stringent, businesses must revise and update their data policies for transparency. Ensure that your data capture and handling processes comply with the data privacy laws and regulations. Collect only that information that is readily provided by the customers using various methods, such as polls, quizzes, feedback forms, and more. Avoid requesting excessive information from customers and overwhelming them.
Augmented reality and virtual reality have become an indispensable part of the eCommerce industry. By building immersive experiences, these technologies are helping businesses like yours to prioritize shopping experiences. It gives customers a quick preview of how your products will look in real life. For example, how a dress will look on your body type, how lipstick would look on you, whether your new sofa will match your home color theme, and so on.
Investing in AR/VR will help your customers better understand if your products meet their needs. It will make you stand out from the competition as you would offer your customers an outstanding medium to explore and virtually test your products.
Did you know the AR/VR market size is forecasted to reach $100 billion in 2026?
The rise of voice search has changed the buying trends for the eCommerce industry. According to DemandSage, over 50% of adults use voice search on a daily basis. Further, 27% of these searches are conducted on mobile devices. Most customers today rely on voice-search-enabled smart speakers or voice assistants, such as Siri or Alexa for day-to-day tasks including shopping. Hence, you should optimize your eCommerce website for voice search and deliver seamless shopping experiences to your customers.
Craft your content in a way that it offers a healthy mix of textual content, graphics, and videos. This will prove useful in helping your content get showcased in featured snippets on the search results page and boost your SEO. Install a powerful site search system like Sparq Product Search on your eCommerce website that leverages AI, NLP, and machine learning to determine the shopper's intent behind a search query and delivers the most relevant results.
As newer trends continue to dictate the eCommerce industry, you need to invest in effective marketing strategies to maximize conversions and boost sales. This includes leveraging data-driven marketing techniques, customer experience enhancements, and more to optimize the customer's journey with your brand. Utilizing conversion rate optimization techniques is the best way to convert your visitors into purchasing customers and keep up in the competitive eCommerce landscape.
Start by optimizing your eCommerce website to deliver the best user experience possible at every customer touchpoint. Update your website content with a straightforward copy that delivers a concise message to the customers. Conduct A/B testing to identify what works for your brand and update your website accordingly.
The subscription business model has become one of the latest trends in the eCommerce industry and is estimated to reach over $2 trillion by 2028. Many businesses are offering various subscription plans to their customers allowing them to choose the products or services according to their needs or preferences at a fixed monthly fee.
Subscriptions are gaining popularity because it offers convenience to customers who need the same products or services regularly. It eliminates the need for repeated manual orders thereby saving time and effort for placing the same order every time while offering the products at a cost-effective pricing.
For eCommerce businesses, subscriptions create a recurring relationship with the customers that ensures repeat purchases over an extended time. You can further strengthen this relationship by offering incentives and perks to reward your loyal customers.
This business model will offer you a predictable revenue stream and help you forecast and plan your business finances more accurately. It's a win-win situation where you benefit from recurring revenue and customer loyalty while your customers enjoy convenience and hyper-personalization. No doubt subscriptions will continue to trend over the years to come.
The shopping habits of customers and their brand preferences have evolved over the years. The desire to purchase from brands with whom the customers share the same values is growing stronger day by day. Around 82% of customers want to shop from brands that have sentimental value towards best environmental practices, sustainability, customer experience, and more. Hence, you ought to familiarize yourself with your customers' values to delight and retain them.
As customers are becoming aware of the impact technology and development is causing on the environment, they are gravitating more towards sustainability. They are being more conscious about their choices, where they shop, and the impact of their actions on the environment.
Did you know over 88% of customers revealed they would stay more loyal to a company that supports environmental issues and sustainability? Further, 83% of consumers would prefer a brand with a better sustainability record over the others. Hence, it is crucial to include sustainability as a part of your core value proposition and take action to incorporate those changes in real time.
You can start by utilizing environment-friendly raw materials for manufacturing your products. Invest in energy-efficient equipment or machinery, climate-friendly technologies, eco-friendly shipping, or more to reduce your carbon emissions. Use ethically produced and recyclable packaging for your products. You can also partner with some environmental organizations to promote sustainability and help create a greener environment.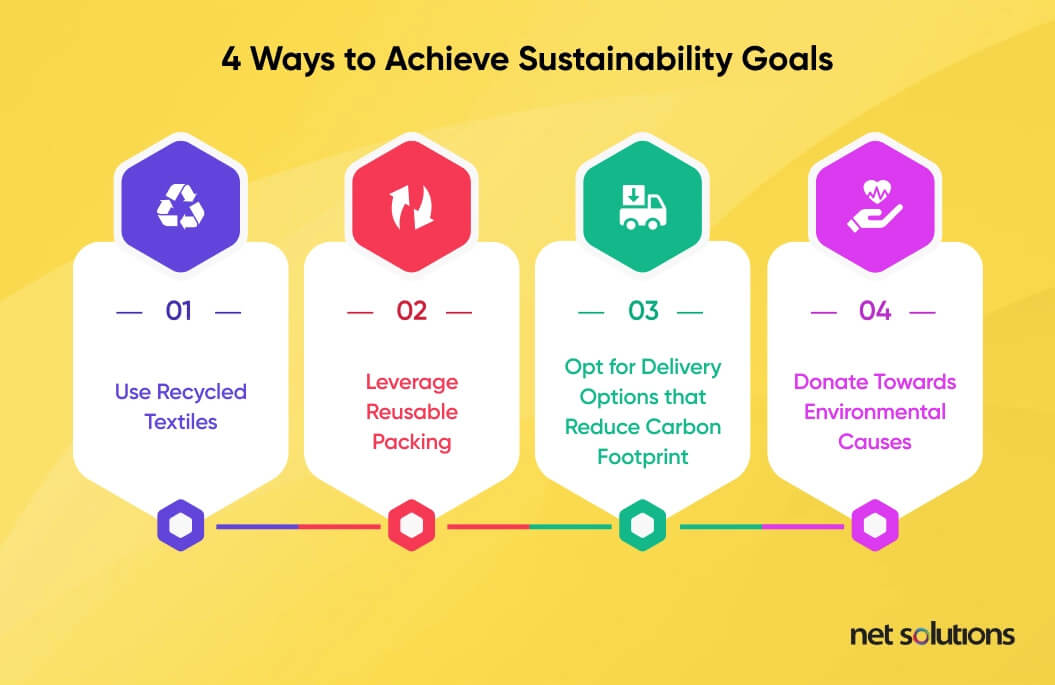 Livestream shopping is trending. Many eCommerce businesses are bringing back human faces to their sales strategies with the help of live shopping. Businesses today do live streams to showcase their products while providing a quick way to purchase them. They are also partnering with leading industry influencers to encourage customers to purchase your products directly from a live stream.
Livestream shopping is preferred by customers because it helps them directly interact with you and ask questions via video or live chat. It offers a good medium to capture customers' feedback and provides insights on key metrics, such as customer engagement, customer satisfaction, average call time, livestream sales, and more.
In fact, many businesses have observed that live shopping conversation rates are up to 10x times higher than the average eCommerce conversion rates. According to a prediction by Statista, live-streaming commerce would account for about 10-20% of eCommerce sales by 2026. This makes it an outstanding trend you must keep an eye on and consider investing in.
Conversational marketing is on the rise as customers today look for meaningful conversations with brands and immersive experiences. The global conversational marketing software market is estimated to reach $2.4 billion with a CAGR of 17.4% by the end of 2032. It helps you engage your customers via one-on-one conversations using chatbots or live agents, share personalized recommendations and offers using AI, offer real-time support, and more.
You can leverage conversational marketing to engage your customers, manage customer interactions, and build a loyal community. Write excellent content that is informative and easy to understand. Utilize customer behavior and purchasing history to connect with them more personally with hyper-personalized product suggestions. Implement a conversational marketing bot that offers real-time support to your customers.
You can also design and start a loyalty program or rewards program that offers exclusive offers, birthday gifts, limited-time deals, and more for building a more intimate connection with your customers.
Fast and free delivery is another eCommerce trend that you must look out for. As customers expect their orders to arrive as soon as possible, many eCommerce businesses are striving hard to eliminate shipping fees and offer quick order fulfillment. Besides faster deliveries, customers look for affordable or free shipping options when placing their orders. Over 88% of customers are willing to purchase from a brand that offers free shipping.
Shipping fees and speed are the two factors that will continue to influence customers' purchasing decisions. Hence, business owners will have to invest in efficient shipping and order fulfillment strategies to meet their customer's expectations and improve shopping experiences.
Headless Commerce architecture helps you decouple your eCommerce website's frontend presentation and backend functionality to optimize shopping experiences for customers. It offers more flexibility and freedom to build the best front-end experience with an entire focus on your content.
By separating the front-end and back-end, headless commerce allows you greater flexibility and scalability. It leverages application programming interfaces (APIs) to deliver content to a front-end framework thus adding an entirely new dimension to eCommerce and delivering innovative shopping experiences.
Your customers will be able to make their purchases through smart speakers, smart fitness devices, and other IoT devices apart from the usual desktops, laptops, and mobile phones.
Due to its extraordinary ability to unify all shopping experiences, many business leaders are willing to spend 25% more on improving digital experiences that include headless CMS. No wonder the headless CMS software market is expected to reach $5528.5 million by 2032 with a CAGR of 22.1%.
Here are a few ways you can stay updated about the latest eCommerce trends and innovations.
Register for marketing blogs and newsletters
Subscribe to authoritative and reputable eCommerce blogs, marketing forums, and newsletters to gather industry insights, read case studies, and more.
Set up Google Alerts to keep informed
Create Google Alerts for specific topics or relevant keywords and receive email notifications whenever new content related to your alerts is published.
Hashtags for Search
Utilize social media platforms such as LinkedIn, Twitter, and Instagram to search for relevant hashtags. Discover posts, news, and discussions from industry experts and thought leaders without any hassles.
Spend time listening to marketing podcasters
Listen to podcasts hosted by leading eCommerce industry experts for valuable industry insights, interviews with leaders, and lively discussions on current eCommerce trends.
Look to top brands for ideas
Follow leading eCommerce brands to monitor their tactics, strategies, and approach toward the ever-changing market.
We hope that this article has prepared you for the future of the eCommerce industry. The trends mentioned in this post will help you discover new avenues to understand your customers, deliver seamless online shopping experiences, and improve overall business efficiency.
What is the future of e-commerce in 2030?
The eCommerce industry is expected to continue its rapid growth with the widespread adoption of emerging technologies, such as AI-powered personalization, live shopping, virtual reality, last-mile deliveries, and more in 2030.
What are the global e-commerce trends to watch?
Some of the global trends you must watch in 2023 include the integration of AR and VR technologies, increased focus on sustainability, growth of social commerce, the rise of livestream shopping, and expansion of cross-border eCommerce.
What are the current trends in digital commerce?
The current trends in digital commerce are AI-powered personalized marketing, smart search, versatile payment options, subscription commerce, live stream commerce, and more.
What is the future state of e-commerce?
The future state of eCommerce will be largely focused on delivering immersive shopping experiences to customers through AI, VR, and AR leading to better customer engagement and convenient shopping.
What is the future of e-commerce after COVID-19?
After the COVID-19 pandemic, the eCommerce industry has witnessed accelerated transformation and growth because customers have prioritized online shopping.
What are the technology trends that impact secure e-commerce transactions?
The technology trends that impact secure eCommerce transactions are the adoption of encryption protocols, secure payment processing, biometric authentication methods, and fraud detection and prevention systems.