10 Jan 2023
Customer Retention Strategies for 2023

Many eCommerce businesses often focus their sales and marketing efforts on attracting new customers, boosting brand awareness, and scaling their growth. They fail to understand that customer retention is as important as customer acquisition.
Did you know that a 5% increase in customer retention can boost your profits by 25% to 95%? Yes, that's true. Customer retention helps in boosting customer loyalty, reducing churns, and increasing your sales and revenue. Hence, investing in effective customer retention strategies is crucial for eCommerce businesses.
Before we proceed further, let us have a look at the top 5 metrics every business must track to measure customer retention.

Customer retention rate (CLV) - This metric tracks the number of customers who stayed with your business over a certain period of time.
Average order value (AOV) - This metric tracks the average amount a customer spends for every order placed over a certain time period.
Churn rate - This metric gives you the percentage of customers who have stopped purchasing products from your brand during a certain time period.
Repeat purchase rate - This metric gives you the percentage of customers who are willing to make second purchases from your business.
Customer lifetime value - This metric gives a measure of the total revenue a typical customer can bring to your business as long as that person remains a customer.
Monitor these metrics to gain insights into your sales and marketing performance and take measures to ensure that the business growth remains unhampered. You can follow the below-mentioned strategies.
Let us have a look at the top 5 customer retention strategies that you can implement for your eCommerce business.
A seamless customer onboarding is the first step in your customer retention strategy. It helps your customers understand the value and experience they will receive from your brand and its products. While creating a lasting impression on your customers, a comprehensive customer onboarding program helps you build a sense of trust among them and convert them into loyal customers.
Chalk out a seamless customer onboarding process to help your new customers get familiar with your offerings. Leverage walkthrough videos, interactive product tours, user manuals, and more in your customer onboarding strategy. Remember, 86% of customers would stay loyal to eCommerce brands that invest in onboarding.
A well-designed website is one of the most powerful channels for customer retention. It helps in boosting your online presence and builds the credibility of your business. 75% of customers believe that a user-friendly yet professional website design can make your business look trustworthy and genuine.
Further, 64% of customers revealed they would shop from a competitor if a website offers poor user experiences.
Hence, designing an engaging eCommerce website is crucial for its success. Here are a few tips to follow when building your website.
Select a user-friendly website theme to design your website that matches your brand image.
Improve your website user experience by offering easy navigation, menus, and descriptive product pages.
Enhance product discoverability by enabling smart product search and filter widgets. Use Sparq's Product Search and Filters Shopify plugin on your website.
Optimize your website for multiple devices, such as mobile phones, tablets, desktops, and more. Ensure that the website is compatible with different browsers as well.
Do not forget to conduct an SEO audit and take measures to improve your website's SEO score.
Create engaging content, such as product descriptions, headers, CTA buttons, and landing pages.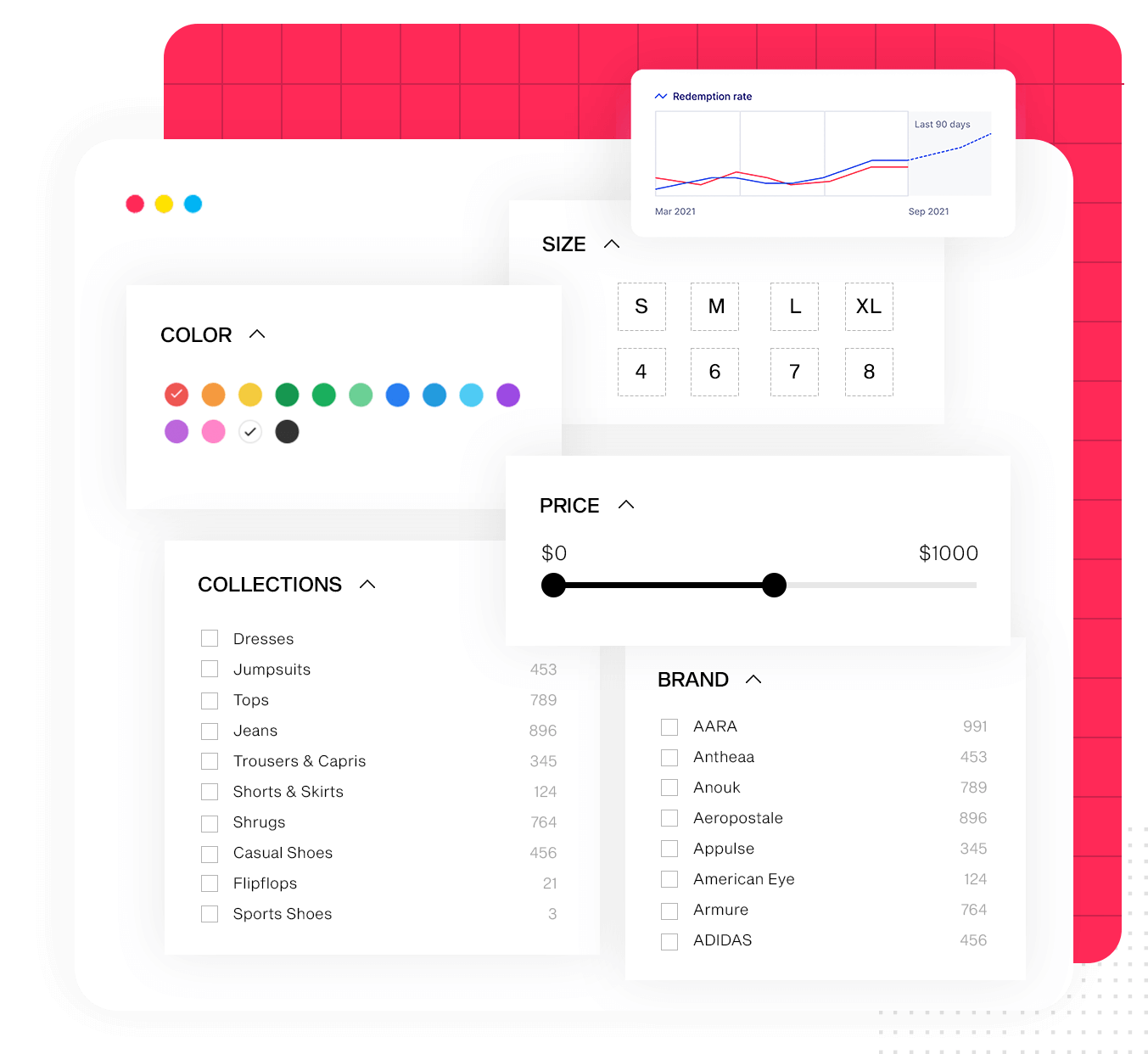 Personalization plays a key role in customer retention today. Crafting personalized experiences for the customers makes them feel valued and fosters a strong connection that boosts customer loyalty.
According to Startup Bonsai, 80% of customers revealed that they are more likely to buy from a business that offers tailored experiences.
Let us have a look at a few easy ways you can offer personalized experiences to your customers.
Share personalized product recommendations as push notifications to the customers based on their purchase history, browsing behavior, and more.
Amp up your customer service by communicating with the customers effectively and helping them with their queries. Install a live chat widget, set up a knowledge base, be active on social media, and more to ensure you are there for your customers when they need you.
Capture customer feedback through surveys to understand what the customers feel about your brand. Thank your customers for positive feedback and address the negative ones by making improvements in your business operations.
Devise a customer loyalty program that offers the customers points which can be utilized to receive additional discounts on future purchases or trade for freebies.

Email marketing provides you an opportunity to connect with customers on a personal level through targeted content. In fact, the average expected ROI on email marketing is found to be $40 for every $1 that is spent on the same.
Further, the average email open rate and average click rate for eCommerce are reported to be 15.68% and 2.01% respectively. No wonder many eCommerce businesses are leveraging email marketing as one of their tactics for customer retention.
Here are a few tactics you must add to your email marketing strategy.
Send welcome emails to the customers upon registration and thank them for trusting your company. Include exclusive coupon codes and product recommendations in this message to motivate them to make purchases. Studies reveal that welcome emails can increase user engagement by up to 500%.
Share valuable and educational content with the customers in addition to promotional offers. You can share a quick roundup of blog posts, how-to guides, product tutorials, customer surveys, and more to engage your customers.
Send cart abandonment reminders to the customers and ask them to complete their purchases. You can utilize upsell and cross-sell opportunities to encourage additional sales.

Although social media is popularized as a platform for attracting new customers and promoting new products, it is the best channel for engaging customers to retain them. Connect with your customers on social media and keep them invested in your brand.
According to Truscribe.com, 37% of marketers believe that social media is an excellent tool for customer retention. You can nurture your customers on various social media channels in the following ways.
Create the kind of content your customers would be interested in. Utilize all the features these social media channels provide to create visually-appealing images and videos for your posts.
Educate your customers about your products and help them in making a decision. This is especially true for those customers who are still in the consideration phase of the buying cycle.
Share exclusive product discounts and offers with your social media followers. Organize contests and giveaways on special occasions to promote more engagement.
Respond to the customer's comments on your posts or connect with them through a direct message to resolve their queries.
Leverage social selling by enabling the Shopify Starter plan and sell your products through social media without any hassles.
Customer retention is one of the best ways to improve profitability and scale your business to greater heights. Follow the tactics we have mentioned in this guide to reconnect with existing customers and supercharge your customer retention efforts.