03 Aug 2022
How To Get Product Reviews For Your eCommerce Store

Product reviews offer a lot of benefits in eCommerce.
Up to 88% of consumers look at a product review as sufficient social proof to decide on a purchase. Up to 72% of them say positive reviews increase their trust in a brand or product.
This isn't all. Reviews increase your conversion rate, help improve your Shopify search engine optimization, and when utilized properly, even negative reviews help you improve your products, services, and overall business.
To reap these benefits, however, reviews have to be present on your Shopify website.
This article presents you with all you need to know about Shopify reviews, including the different methods of gathering reviews, product reviews examples, and how to add reviews to Shopify stores. Let's get right in.

We recognize that product reviews are very important to the growth and success of your eCommerce store. To get a product review, a lot is involved.
A Shopify product review app facilitates the collection and display of your customer review. They help you automate a majority of your processes and make sure all the necessary features are available for your use.
When choosing one, you want to go for an app that offers you the best value for money.
If you intend on saving the most cost, you could go for the Product Reviews app by Shopify. It is free but offers you limited features like collecting and displaying text reviews and product ratings.
Third-party apps offer you more but for a price. You get to collect and display images and videos from customers, leverage multiple user interface elements to display reviews and create custom forms.
Some of these apps even allow you to import reviews from other platforms and marketplaces, choose which reviews get displayed, assure you of regulatory compliance, and even integrate referral discounts to prompt customers to give reviews.
Customer review may be sought in a barrage of ways.
Via Emails
Via SMS
Upon order delivery
Via social media
Via person
Collecting reviews via emails is straightforward and, as said before, made easier thanks to reviewing apps.
You create emails that are automatically sent to your customers after they make a purchase. These emails are not sent immediately but after a reasonable time when you expect them to have used the product. This could be after a week or two.
You could also integrate review collection into your regular email campaign schedule. Personalized emails are sent out to individuals that have previously made a purchase with you and you include directions to providing reviews.
An effective medium for Shopify stores with localized services, collecting reviews through SMS campaigns is also one thing you could do. These may also be automated through review apps.
You also collect reviews through your order delivery.
Of course, this isn't immediately after the order is delivered. Instead, a postcard requesting a review is delivered alongside the product and is posted by the customer later in the future.
Social media is one of the easiest ways to collect reviews from customers. You ask them to share reviews using direct messages, interactive replies to posts, or even ask them to create content on your product.
Social media offers you the most flexibility in collecting reviews but to enjoy this, you have to have a community of users on that social media platform. You need to know how to find your users.
If you run a physical store, you could also request reviews from customers as they leave. You give them cards directing them on how to locate you online and encourage them to provide reviews when they have time.
In addition to all these, it is also important to send follow-up messages or emails reminding customers to give reviews. Top Shopify review apps let you automate this process also.
Offering customers incentives for reviews makes the process even easier. You also want to ensure that customers give reviews seamlessly through mobile devices.
Once product reviews are collected, they have to be displayed in your eCommerce store.
For automatons to be seamless, you also have to set up your eCommerce store for reviews before starting your review collection campaign. Preferably, you do this before launching the store.
This setup includes picking an app that fits the description previously provided and creating a space on your Shopify website for a customer review to be displayed.
There are two ways to add reviews to Shopify stores;
Reviews on product pages
Reviews on the review page
Some product reviews examples will be provided alongside these:
This is a common practice. This involves placing dedicated reviews for the particular product being displayed. This could be on your homepage or the product landing page.
Here is an example of reviews on the homepage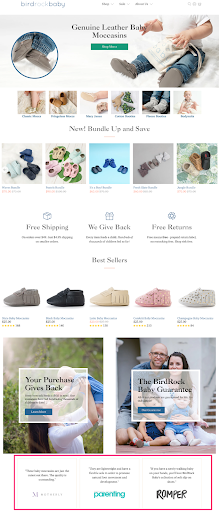 Here is one for reviews displayed on the product landing page.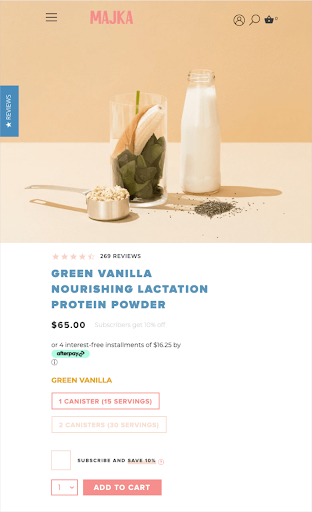 A review page is simply a dedicated webpage to display reviews. It is nicknamed ''Reviews" or ''Customer Feedback", among others, depending on how the Shopify website owners want to name it.
Top review apps even help you create this page.
A reviews page also helps with your SEO as it could rank on search engines. Your organically generated leads have direct access to every single review about your product and easily decide from there. Here is an example of a reviews page.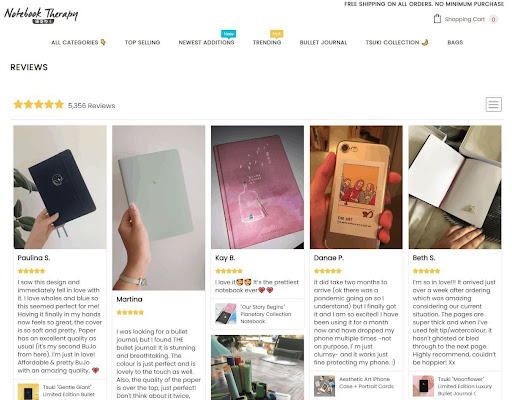 After adding these elements to your eCommerce store, your product reviews are ready to help you attain success.
As seen from these product reviews examples, a product review may include images, in-depth textual content, and product ratings in the form of stars or any shape you wish to use. The top Shopify review apps assure that you have access to all these.
If you haven't made any sales, giving out free products does not hurt. The ROI from this is worth taking the loss for.
You give out your products to multiple users that fall within your target audience and request a review from them.
Receiving free products is enough to prompt these customers to easily provide reviews or product ratings. Their feedback becomes the currency they pay for the product you have given them for free.
Expectedly, they are mostly generous enough to give positive reviews.
Positive reviews offer you the most value. To get them, your products need to be top-notch and meet quality expectations. These are the reviews you present on your eCommerce store to attract traffic to it and increase your conversion.
Negative reviews, on the other hand, are good for other reasons. You use them to spot defects in your product or service and make appropriate improvements. Look at negative reviews as chances to get more positive reviews.
Reviews fall under the most important elements you need to have within your Shopify website. Generally, they increase your sales and accelerate the growth of your eCommerce store.
Nonetheless, to properly enjoy the benefits accompanying them, you need to start them up well.
You collect reviews from the right places and audiences and make use of apps to facilitate the whole process.