14 May 2023
7 Best eCommerce Search Engines in 2023

Site search is one of the most crucial features for your eCommerce store. It helps your customers find the products they are looking for without any hassles, thereby helping you craft better customer experiences. Besides, it helps you collect important customer information about the products they are looking for, the queries they use to find those products, and how they engage with your eCommerce store.
An intuitive search helps you deep dive into your customers' minds in order to optimize your offerings and craft personalized buying experiences. According to a report by Forrester, 43% of customers directly go to the search bar when purchasing online. Hence, it is important to invest in an excellent eCommerce search engine and deliver seamless shopping experiences.
In this post, we will share a list of the top eCommerce search engine software that will streamline eCommerce search, increase conversions, and boost sales.
That being said, let us first understand what an eCommerce search engine is and its importance in detail.
As the name suggests, an eCommerce search engine is an exclusive search engine designed and developed for online eCommerce stores. It crawls through your website's product catalogs while indexing your products and helps your customers find the products they are interested in quickly.
All that the customers need to do is enter search terms related to the products they wish to purchase in the search box and the eCommerce search engine delivers the relevant results to them in no time. These search engines employ a variety of technologies and techniques, such as natural language processing, semantic search, machine learning algorithms, predictive analysis, and more to deliver accurate results to customers.
eCommerce search engines are also designed to analyze search queries and customer behavior for leveraging artificial intelligence to improve the quality of search results.
By helping customers navigate large product catalogs efficiently, eCommerce search engines narrow down their search and simplify their buying journey.
eCommerce search engines offer numerous benefits to your online store. Let us learn more about them.
Engaging customer experiences - It crafts personalized shopping experiences for customers by providing them with product results that are tailored to their requirements. This engaging experience makes customers feel valued and improves customer satisfaction.
Increased sales - It makes product discovery convenient for the customers by creating a clear avenue for them to find your products. In fact, 69% of customers are more likely to buy additional products if they are offered positive search experiences. By providing relevant search results, you can encourage your customers to make purchases faster thereby boosting conversion rates and sales.
Better decision-making for business - It helps you learn more about your customers by analyzing the customer's behavior and preferences. It helps you identify the shopping patterns and trends thereby facilitating better business decisions.
Choosing the right eCommerce search engine can be a bit challenging considering the plethora of options available in the market today. Here is a quick checklist of key considerations you must look out for in your search engine.
1. Functionality Look for an eCommerce search engine that offers features, such as search filters, autocomplete suggestions, product image search, merchandising, and more. It should be able to understand the customer's intent and deliver results that match their query. This will enable customers to find the right products easily.
2. Speed Make sure that your search engine is lightning-fast. The customers should be able to find the desired products quickly. Around 60% of customers admitted to abandoning their purchases due to poor website experience which includes factors, such as site search, page load speed, and more. For eg, Sparq Search delivers results in lesser than 26 milliseconds
3. Customization Ensure that the search engine can be customized to match your website's branding and design. This will help you create a consistent user experience across your entire website.
4. Integration Make sure that your search engine is easy to integrate with eCommerce platforms, such as Shopify, WooCommerce, and more. Test out the system to ensure the integration does not cause any technical issues that could hamper the overall functioning of your online store.
5. Analytics Understand if the search engine solution offers valuable insights into customer behavior, their browsing and purchase history, search trends, and more. This will further help you optimize your website for better search and create tailored customer experiences.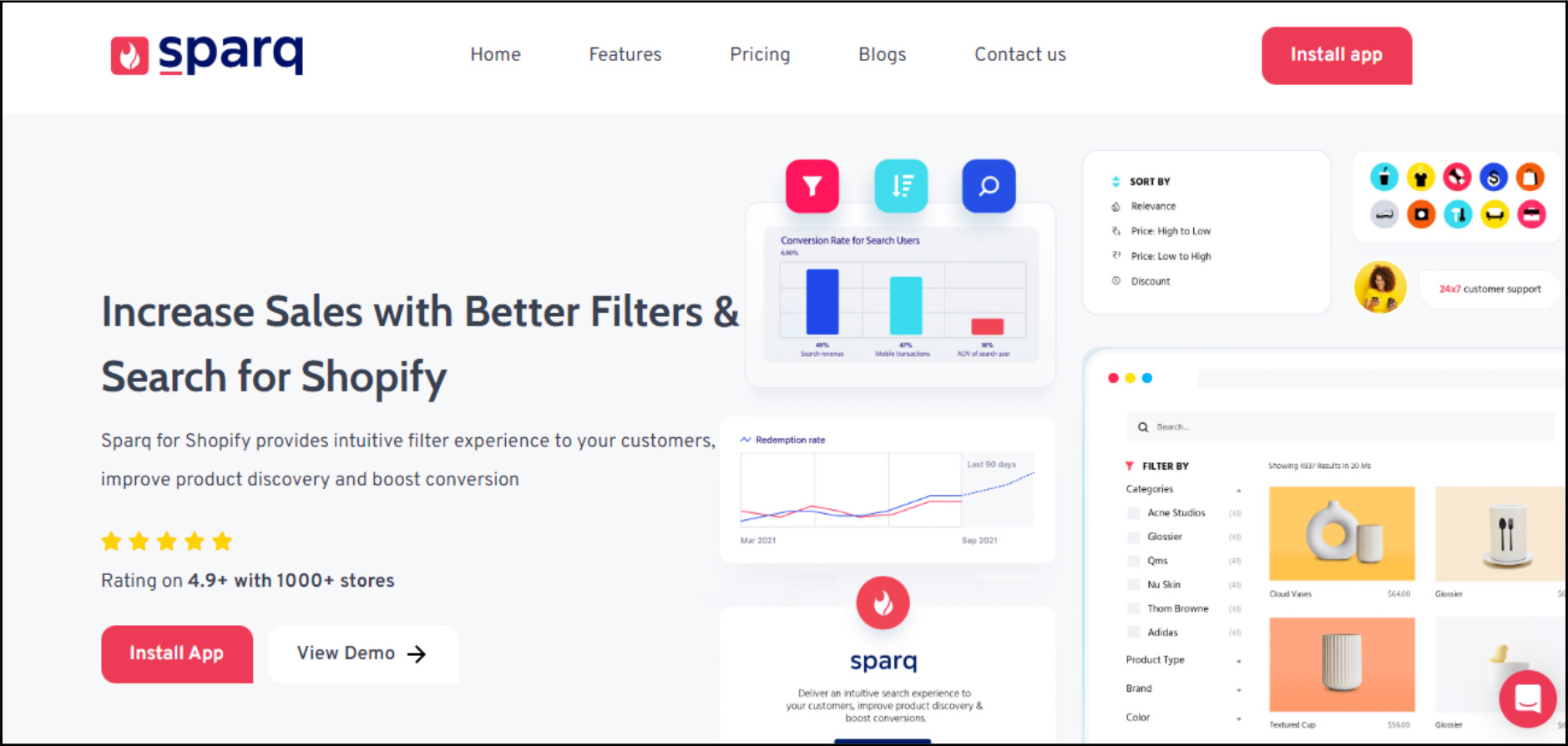 Sparq.ai is the #1 tool that augments search experiences for customers and allows them to find the products they desire without any hassles. It leverages advanced AI algorithms and machine learning techniques to improve product discovery and boost conversions and sales.
Key Features
Intelligent search engine
Multiple filter criteria and custom filters
Instant search suggestions
Merchandising
Unified analytic tools
Pros
Easy to implement
Lightning-fast results
Can be customized to your brand's unique design
One-click install on Shopify
Pricing
Standard Plan
Premium Plan
Enterprise Plan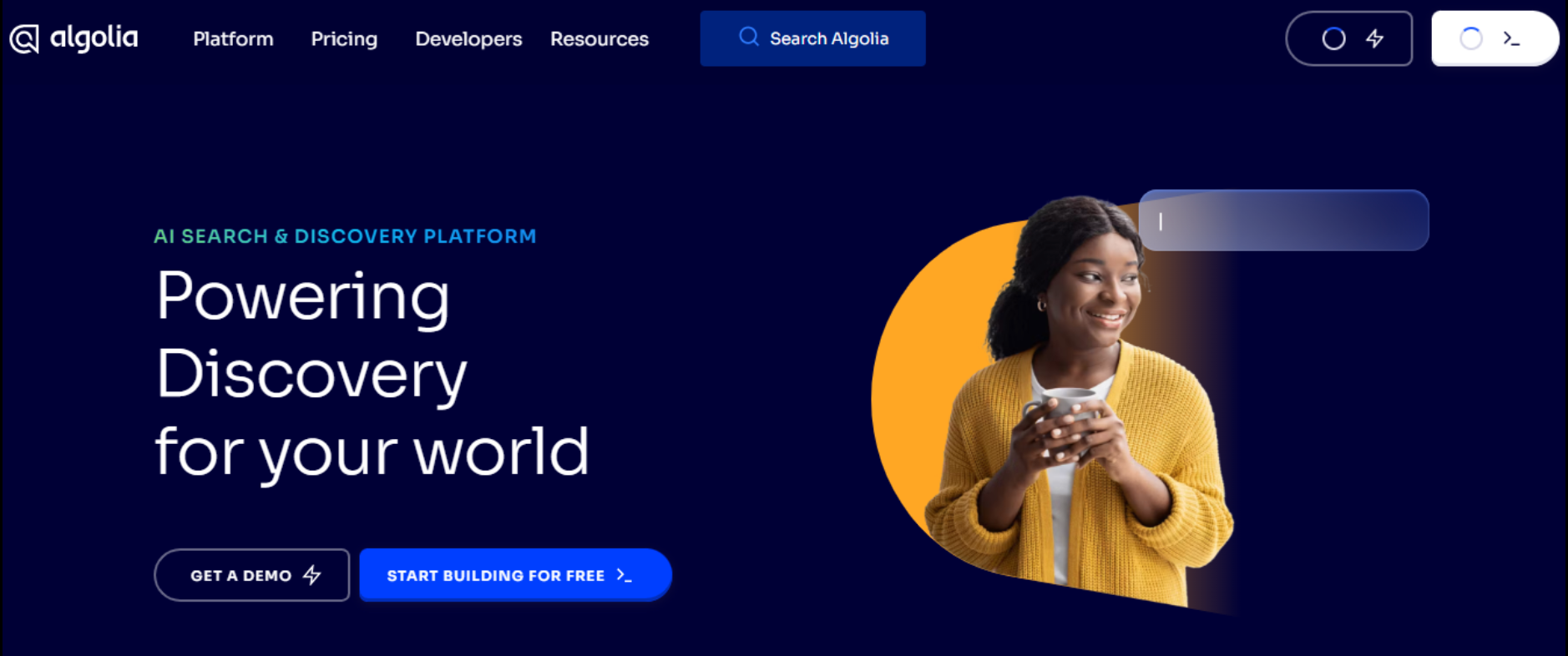 Algolia is a powerful search and discovery platform that helps eCommerce businesses create fast search experiences for their customers. It offers an intuitive dashboard that provides you with real-time insights to create customized search experiences for your customers.
Key Features
Fast search results
Customized search experiences
Location-based search queries
Multiple sorting options
Personalization
Pros
Flawless search process with accurate responses
AI-powered personalization engine
Easy to use
Cons
Not a plug-and-play application
High cost
Limited customer support
Pricing
Build Plan
Grow Plan
Premium Plan
Elevate Plan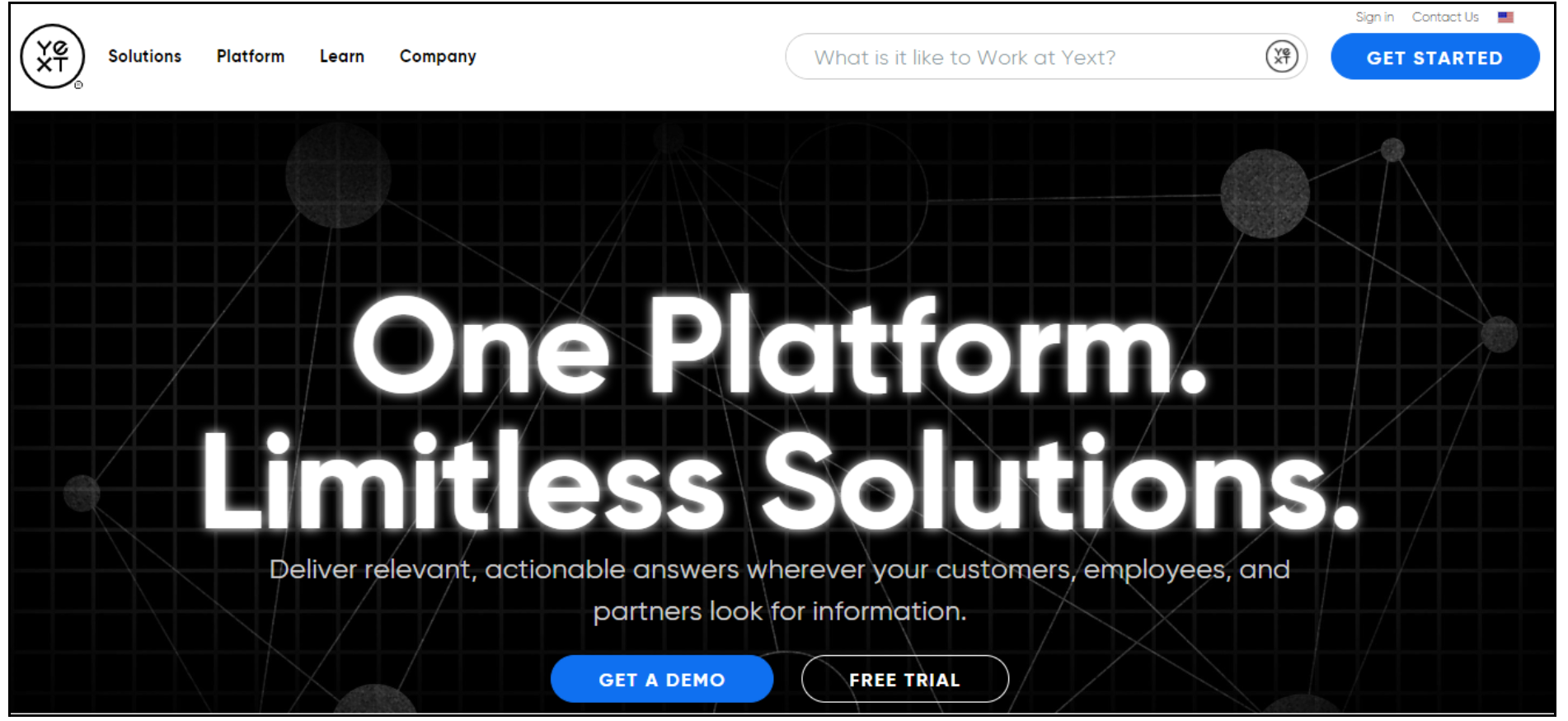 Yext offers an intuitive search and discovery platform to deliver excellent results to customers and streamline their journey with your brand. It helps you create a personalized shopper journey that drives more purchases and boosts sales.
Key Features
Semantic text search
AI-powered search engine
Multiple search criteria
Search query suggestions
Pros
Simple and easy-to-use interface
Better search results with AI ranking and natural language processing
Personalized shopping experiences
AI-driven merchandising
Intelligent insights to drive revenue
Cons
No freemium plan
Long development time
Pricing
Contact Yext Team to know the pricing.
Base Plan
Starter Plan
Professional Plan
Ultimate Plan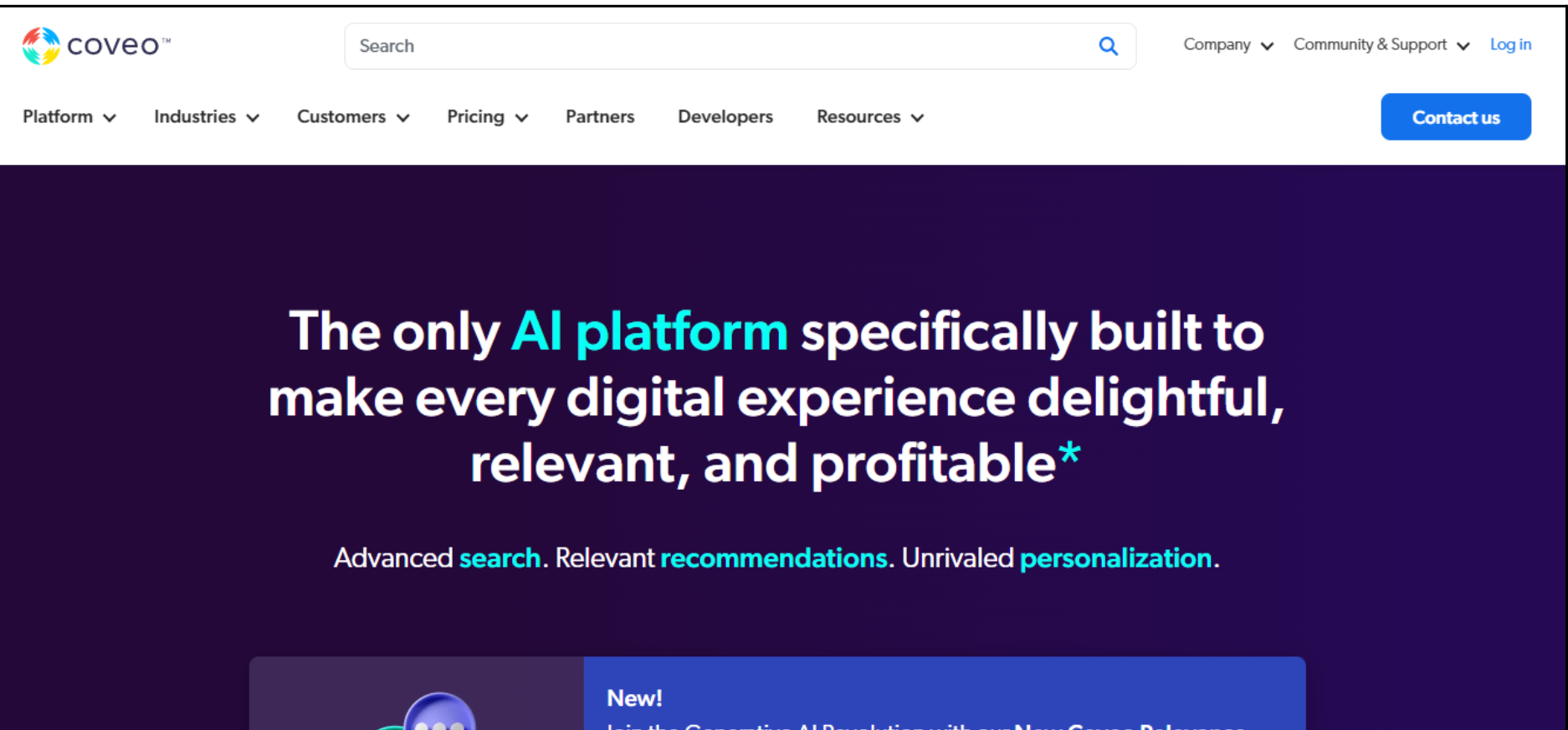 Coveo is an excellent product search and recommendation platform that helps you deliver relevant product suggestions and personalized experiences to customers for streamlining their buying journey. It leverages artificial intelligence and machine learning to make buying experiences more relevant for your customers.
Key Features
Seamless eCommerce search
Personalized product recommendations
Customer journey personalization
Product Merchandising
Product badging
Pros
AI-powered search engine
Fast and accurate search results
Advanced tools to build an amazing eCommerce experience
Intelligent analytics
Cons
Ideal for enterprises
Involves a large learning curve
Pricing
Contact the Coveo team for the pricing structure
Pro Plan
Enterprise Plan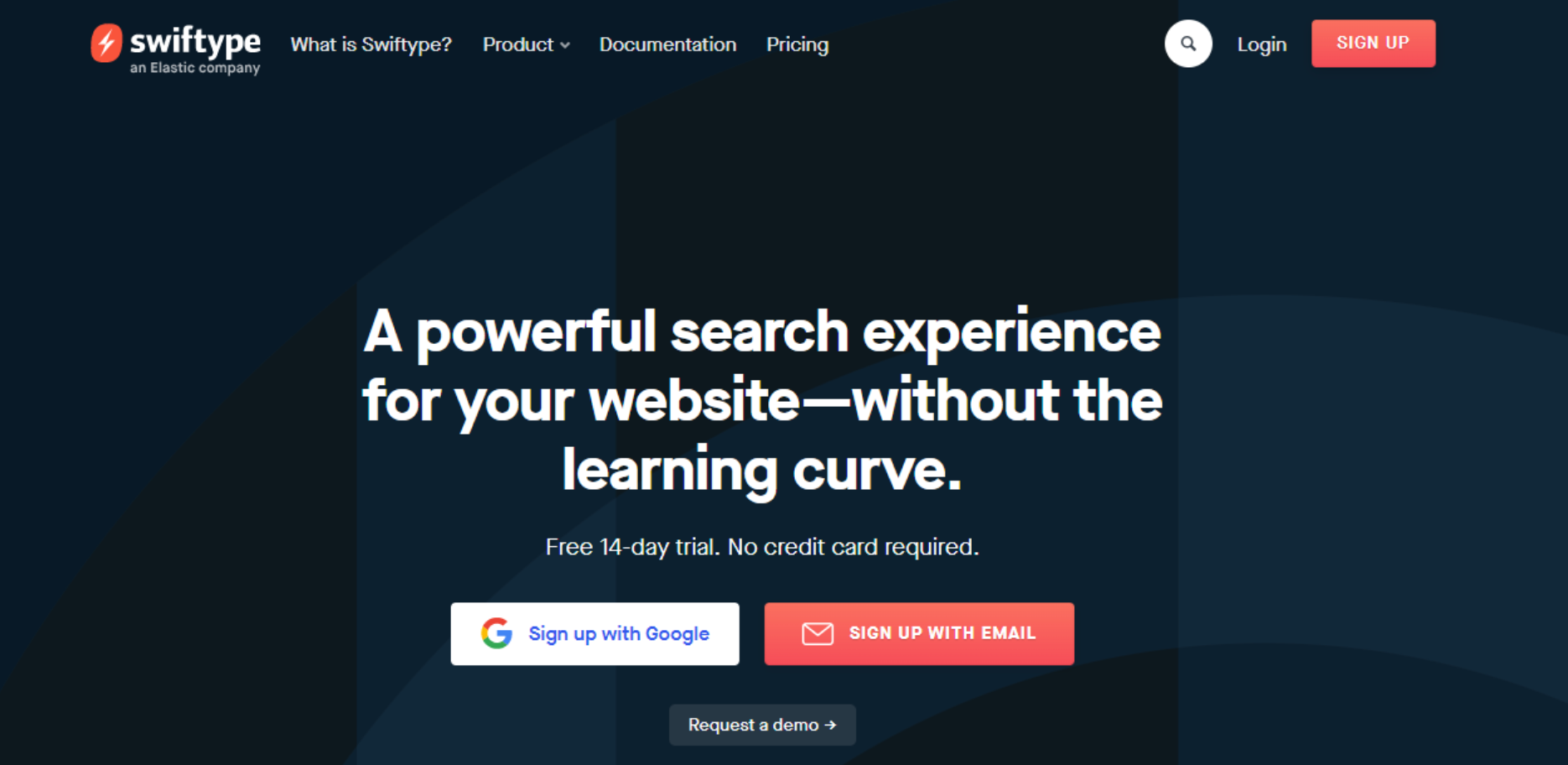 Swiftype is another search engine platform that offers the necessary tools to eCommerce businesses like yours to create outstanding search experiences. It leverages the best search algorithms and advanced content ingestion framework to present relevant content in the form of product suggestions to your customers.
Key Features
Advanced search algorithm
Intuitive search customization
Powerful content ingestion with automated syncing
Real-time search analytics
Pros
Intuitive search experiences for customers
Free trial available
No coding skills required
Easy to implement
Cons
No freemium plan
No live chat support
Pricing
Standard Plan
Pro Plan
Premium Plan
Bloomreach is an eCommerce experience platform that specializes in product discovery along with other eCommerce aspects, such as marketing automation and content management. It offers a suite of tools to create stellar digital commerce experiences for customers.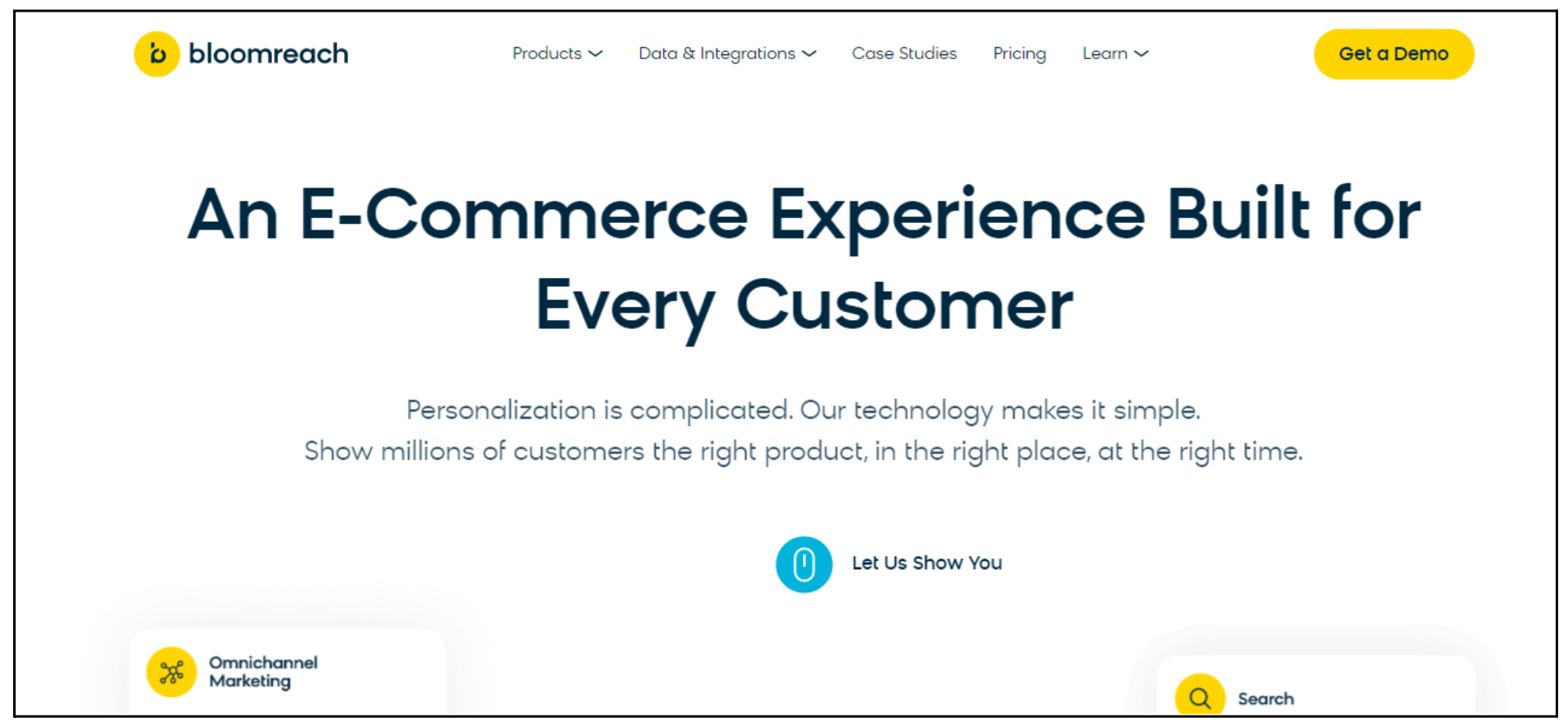 Key Features
Optimized search results
Personalized search responses
Advanced search intelligence
Product merchandising
Product recommendations
Pros
Accurate search precision
Segment-based personalization
Efficient support team
Cons
No freemium version is available
Involves a steep learning curve
Pricing
Contact the Bloomreach team for the pricing structure
Grow Plan
Scale Plan
Enterprise Plan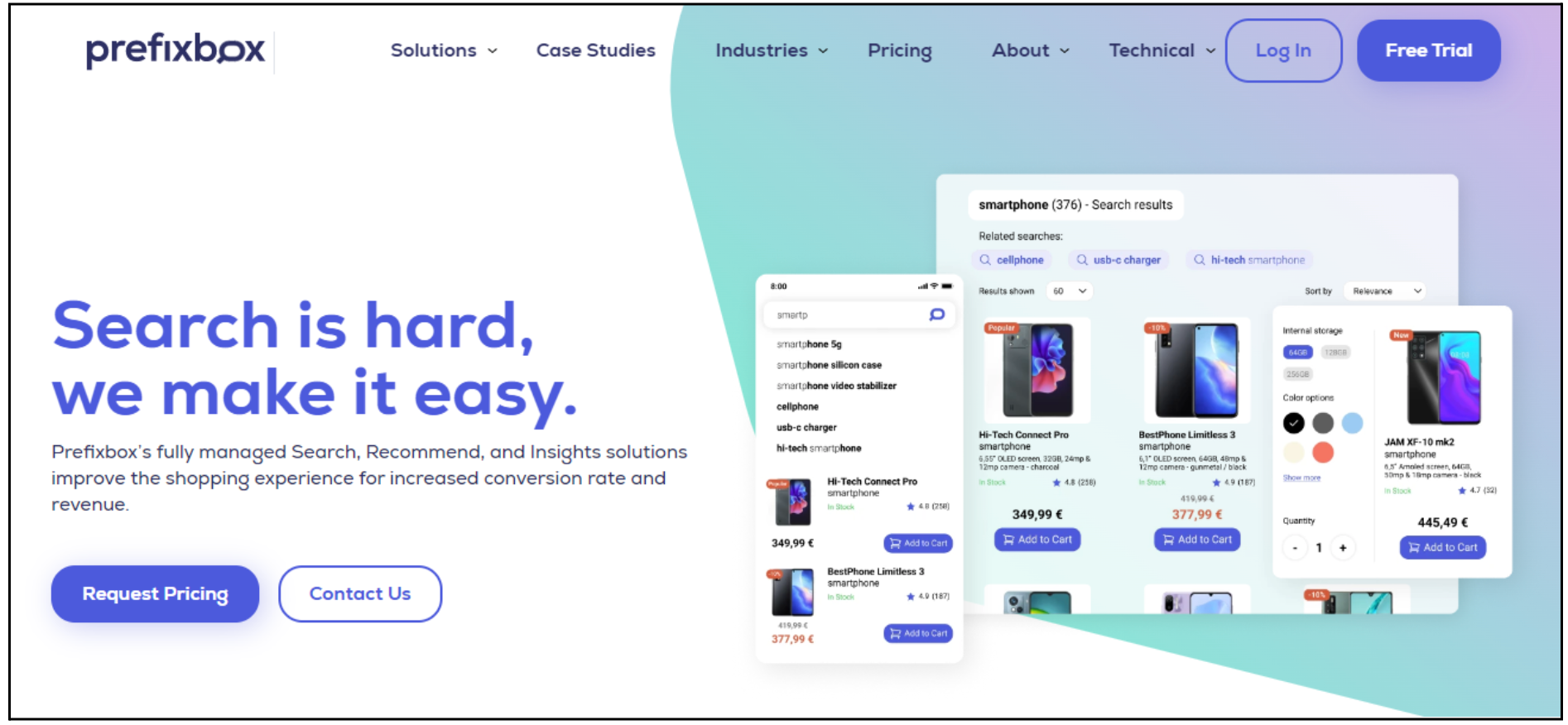 Prefixbox is the last among the top 7 eCommerce search engines for online stores. It offers improved shopping experiences through advanced search, smart product recommendations, and more.
Key Features
Intelligent search results and related search suggestions
Semantic search engine
Product recommendations
Search results preview
Advanced customer data insights
Pros
Fast and accurate results
Intuitive search engine
AI and NLP-powered product rankings
Free trial available
Cons
No freemium plan available
Ideal for enterprises
Pricing Contact the Prefixbox team for the pricing structure
The top 7 search engines we mentioned in this section are some of the most preferred search engines by leading eCommerce businesses around the world.
Choosing the right eCommerce search engine for your online store is crucial for business success. Gauge your online store requirements and invest in the one that is the best for your website. You do not want to invest in a solution that cannot handle your product data or crashes your website when there is an influx of customers.
Hence, besides researching the features these search engines offer, it is important to consider a multitude of other factors, such as implementation time, customer support, and more. Here are a few things you must consider.
Website size / Product offerings - This will help you look for a search engine that is equipped to handle large amounts of data.
Implementation - Connect with the software team to understand the amount of time you will require to integrate the search engine with your website.
Pricing - Research the pricing structures of the shortlisted search engines and choose the one that fits your budget.
Uptime - Enquire with the team about software updates and potential downtime to ensure it does not affect your business operations.
Support - Learn about the availability of support teams for query resolution, bug fixes, or more.
The above-mentioned factors along with the desired search engine features will help you choose a solution that augments your eCommerce user experience and delivers seamless shopping experiences to the customers.
eCommerce search engines can skyrocket your business sales by utilizing advanced technologies and customer data to deliver outstanding site search expectations.
Place your search box in an easy-to-spot position and make it easily accessible from any page of your eCommerce website. Include a prompt, such as search here to guide your customers. Configure the search box with auto-complete functionality to simplify the search process for customers.
Handle misspellings or synonyms efficiently by adding them to the alternate words directory. Remember your website should never showcase a 0-results page.
Leverage NLP to understand the customer's intent and deliver a personalized experience to them. This will provide customers with the right type of products and also speed up the buying process.
Allow customers to filter products based on multiple criteria, such as user ratings, brand, size, and more. Do not forget to include various sorting options.
Offering customers various search options plays a significant role in creating a seamless buying experience. Sparq Search offers you all the above-mentioned features and many more to optimize search experiences for your customers. You can view this demo to try out Sparq all by yourself.
eCommerce search engine simplifies the product discovery process for your customers and shortens their paths to purchase. We hope this list of the top 7 eCommerce search engines has helped you discover the best search engine for your eCommerce store. Invest in the one that suits your requirements the best to improve customer experiences, boost sales, and achieve greater customer retention.
What is an eCommerce product search engine?
An eCommerce search engine is a tool that helps customers discover products on your online store without any hassles.
How do I search for a product on eCommerce?
Every eCommerce store offers a search box, filter panel, and more to help customers find the products they wish to purchase.
What is smart search in eCommerce?
Smart search is a search functionality that understands the intent of the customers and helps them find exactly the kind of products they need.
What was the first e-Commerce site in the world?
Boston Computer Exchange was the first eCommerce marketplace that allowed people to buy and sell used computers. It was launched in the year 1982.
What are the different types of e-commerce searches?
Some of the various types of eCommerce searches are exact search queries, product search queries, problem-based queries, and non-product search queries.