21 May 2023
10 Amazing Tips to Improve Your Shopify Store Search

Online shopping has changed the way customers shop. Customers no longer wish to waste their time struggling to find the products they wish to purchase. If they do not find the desired products, they click away and move to another website. No wonder, 85% of shoppers change their perception of a brand that offers poor search experience on its website.
Enhancing your Shopify store search thus becomes crucial for the success of your eCommerce business. In fact, an intelligent site search and product discovery can boost your brand and offer you an edge over your competitors.
In this post, we will learn more about Shopify store search and the top 10 ways to enhance your store search for better product visibility, discoverability, and sales.
An outstanding product search and a seamless product discovery process are the two major elements that support customers in finding the desired products. Shopify offers a default search feature to enhance the product search process and increase the likelihood of sales.
The Shopify default search employs the basic search functionality to allow customers to enter the keywords or product names and find the items they are looking for. Based on the search query, the default search engine matches the keywords with the product list and generates a list of relevant search results.
Besides product search, Shopify provides sorting functionality based on price, relevance, popularity, price, discount, and more. Additionally, you can filter your search according to product categories, colors, sizes, tags, reviews, occasions, and more.
However, Shopify's default search function offers basic functionality when compared with the advanced search functionalities offered by other apps on the Shopify App store y such as Sparq. To deliver seamless search experiences, you ought to invest in modern applications and tools. Installing Sparq Search enhances the search experience for customers with the help of its advanced features like autocomplete, predictive search, multiple filtering options, custom-designed filters, and more.
We shall learn more about how Sparq can help elevate your store search in subsequent sections. Before that, let us now understand how Shopify search works.
Shopify Search offers you the complete flexibility to customize product search on your online store. Here are a few ways you can configure this search engine on Shopify to improve product discoverability.
Create product categories and update all information about your products including detailed descriptions, product attributes, and more.
Make synonym groups and add relevant keywords to the same. This will ensure that your products are displayed in the search results even if the query entered by the customers does not match the product keywords.
Create custom filters in Shopify to let customers find products on multiple criteria. For example, if you are selling jewelry on your Shopify store, you can add filters that allow customers to choose jewelry based on the occasion they would wear it for.
Once you activate your search on your Shopify store, customize the app settings according to your store requirements. Shopify offers a step-by-step guide on configuring your store search for enhanced product discovery.
Shopify search engine indexes all the content you add to your store. This includes your products, categories, store pages, and more. When a customer searches for a product, the search engine looks for the desired product in this index and presents a list to the customers based on the relevance to the search query.
Shopify does not have any centralized repository that lists the number of stores available on Shopify. Hence, searching for stores on Shopify can be a challenging task. However, you can find a list of featured stores on the Shopify website which showcases how different types of businesses belonging to varied industries and niches are leveraging the platform to build and scale their ventures.
Here are ten proven tips that you can leverage to boost your Shopify store search.
The position of the search box is highly important for your eCommerce website as 30% of customers use the site search bar to navigate and find the products they wish to purchase. Position your store's search bar in a prominent place. Your customers must be able to spot and access it without any hassles and carry out their search queries.
Place the search box either in the top-right corner or the top-center of the web page. Never place it exclusively in the footer or bottom of the page.
Check out how Amazon places its search box in the top center of the page making it readily available for its customers.

Ensure that your product titles are clear and descriptive. Write your titles in a way that they are informative and customer-friendly. They should hint to the customers what your products are about by listing relevant traits. Integrate keywords in product titles to optimize them for search engines.
Include the following information in your product titles when possible.
Product Name
Product Type
Color
Material
Size
Quantity
Flavor
The size of the search bar i.e. its length is another important factor to consider when optimizing your Shopify store search.
Estimate the average length of your search queries by browsing through the customer search data and determine the number of characters you ought to display in the search box. It is ideal to make the search box large enough to display the entire query. If you are not able to increase the size of your search box because of other elements present in the website header, you can configure it in a way that it expands when clicked.
Autocomplete helps customers to discover desired products seamlessly by providing related search suggestions in a crisp menu below the search box. It also eliminates spelling mistakes customers could make while typing out their queries.
For autocomplete, remember to restrict the number of suggestions in the range of 1-10 entries as higher numbers could overwhelm or confuse your customers.
Besides text, you can display product suggestions in the search menu thereby allowing customers to quickly review the products. Check out the screenshot below to understand how Sephora, a leading beauty store leverages the autocomplete and product suggestions functionality.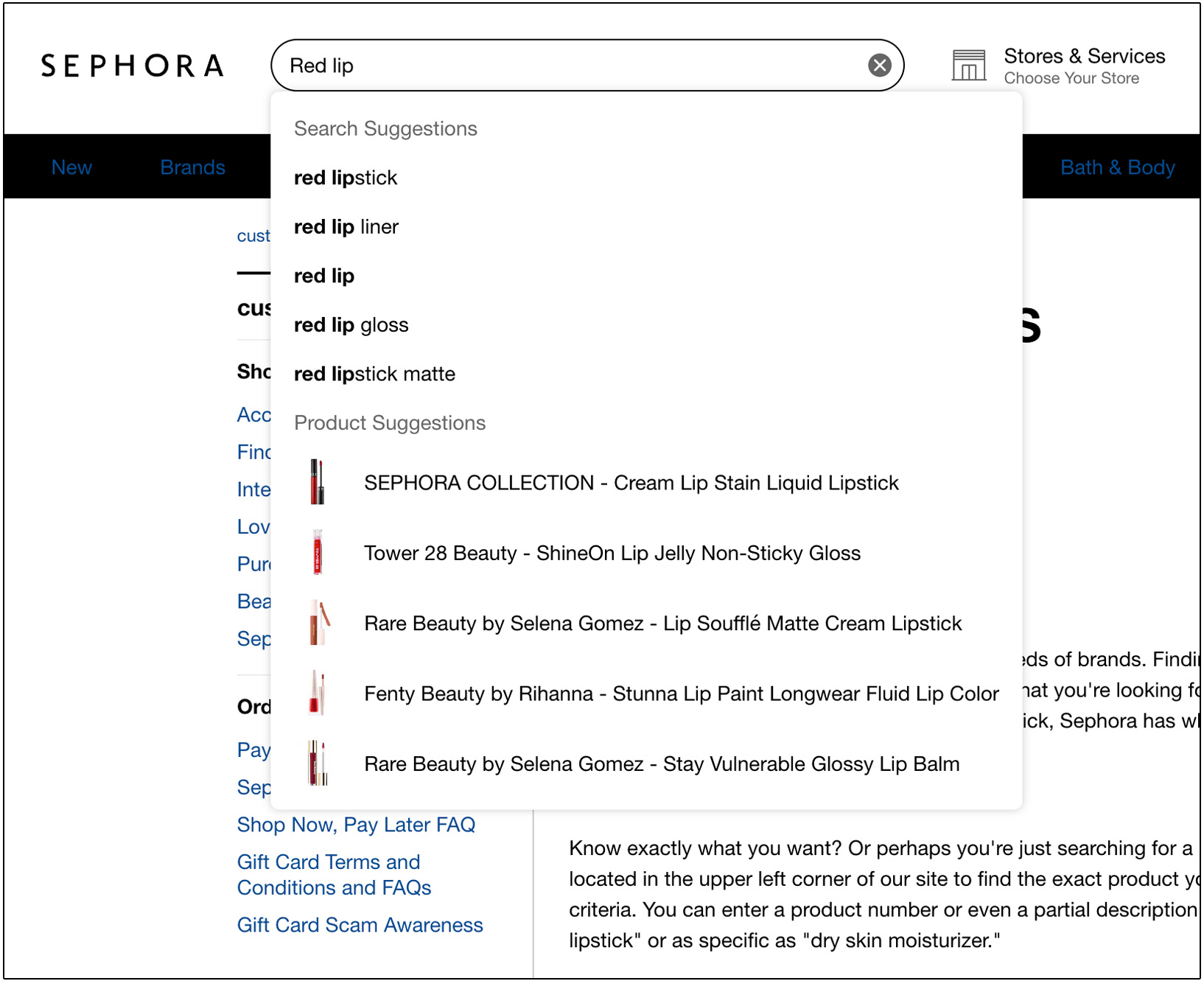 Focus on delivering accurate search results to customers. Write clear product titles and descriptions using relevant keywords to make them as customer-friendly as possible. Add synonyms based on typical search terms to improve the quality of search results. Monitor the search terms used by the customers regularly and edit your product titles and descriptions accordingly.
Products usually have numerous variations of its name. Hence, it is ideal to set up a synonyms directory to ensure your search engine delivers the right results for every query. Enabling synonym search ensures customers receive accurate results even if they are using different keywords in their queries to find the desired products.
Remember the more variations of keywords you add, the better the chances of creating a frictionless search experience for your customers. Do not forget to include some of the most common typo mistakes that your customers could make in this synonyms directory as well.
Remember the more variations of keywords you add, the better the chances of creating a frictionless search experience for your customers. Do not forget to include some of the most common typo mistakes that your customers could make in this synonyms directory as well.
If you have a large catalog that offers similar types of products, it is ideal to allow shoppers to search using product codes. This is especially useful if your customers are looking to repurchase specific products over and over again. They can simply enter the product code in the search box and proceed toward checkout.
Zero search results page can discourage customers from purchasing from your Shopify store. Hence, offering your customers alternatives for the product they wish to purchase is a wise choice.
Instead of being disappointed about the unavailability of the products, your customers can consider purchasing other products that they see as recommended products on the search results page. It could also encourage your customers to explore your entire product catalog and place their orders.
Consider displaying related products in the search results to boost the likelihood of additional purchases. As customers are already looking to purchase certain products, advertising a few more products that can complement their purchase will certainly increase the cart value. This will enhance the discoverability of other products and lead to increased sales.
For example, a customer wishing to buy a new phone would certainly appreciate product recommendations, such as a phone case, power bank, earphones, and more.
Implement predictive search functionality in your search to assist customers in finding what they are looking for efficiently. Predictive search works like auto-suggest functionality.
The intelligent search engine can understand the intent of your customers based on their purchase history, behavior, and more to detect their buying patterns and offer personalized suggestions to them. By leveraging semantic data, the predictive engine can improve your store's user experience and boost sales.
For example, Etsy leverages predictive search on its website to improve product discovery.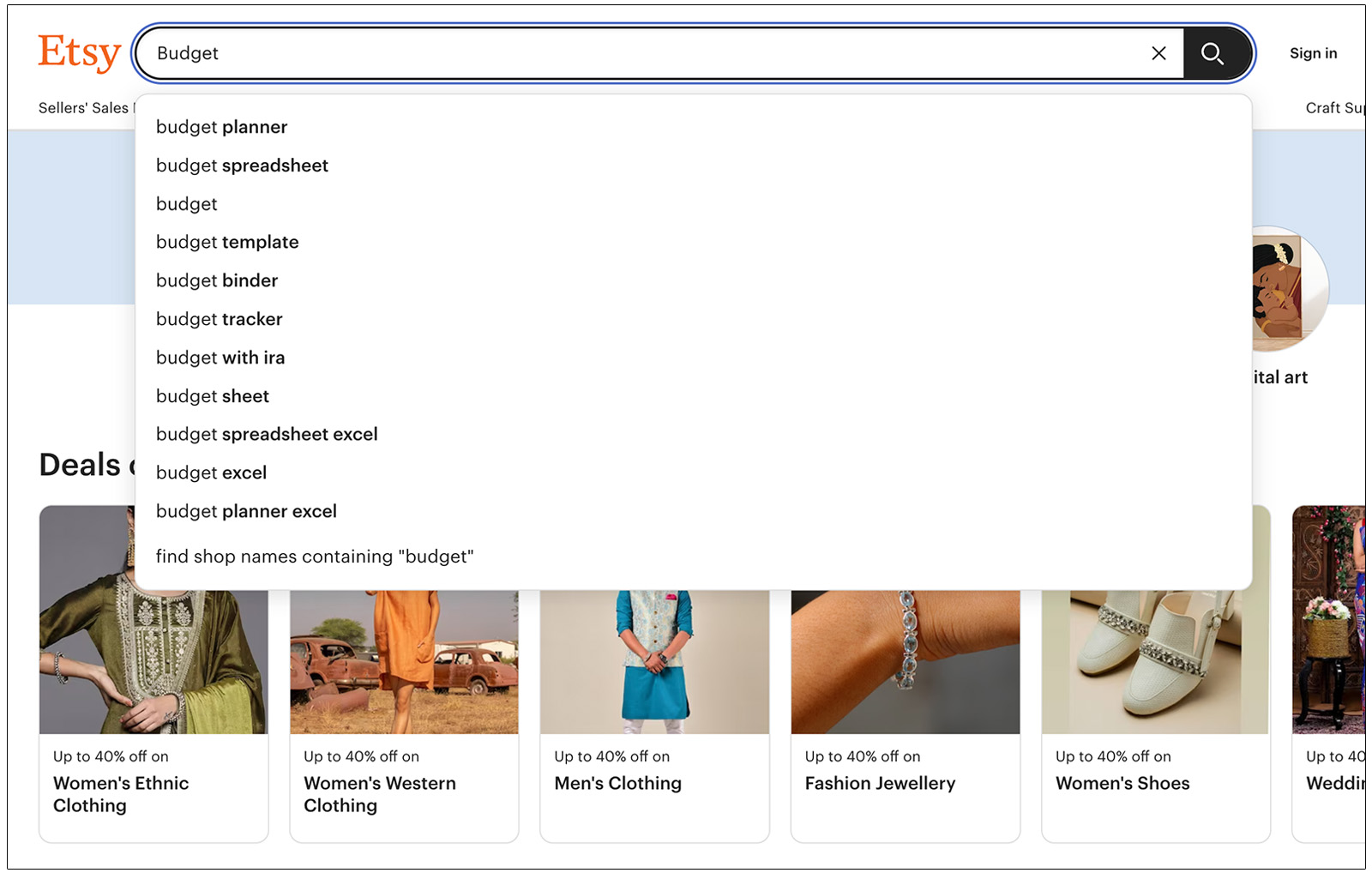 Here are a few ways to find Shopify stores on Google.
Using the inurl command. Go to Google and enter the following text - in url: myshopify.com. You will see a list of Shopify websites in the search results.
Using Built With. Click on the following link - Shopify Websites to see a list of websites actively using Shopify. This website also allows you to download the entire list upon signing up for a free account.
Using Search Engine for Source Code. Go to the Search Engine for Source Code website and type myshopify.com in the search box. Once you hit the Search button, you will see a list of websites using Shopify. You will also be able to download the list in CSV format.
You can search for products on Shopify in two ways.
Using the search bar. Type in the product name or relevant keyword related to the product you wish to buy. Once you submit the query, Shopify will present you with a list of products that match your search query.
Exploring product categories. Choose the desired product category from the main menu and you will be redirected to the category list page. You can either browse through the entire category or apply filters to narrow down your search.
Leveraging third-party search engines on Shopify. Install a third-party search app that leverages AI to improve product searches on your Shopify website. Configure the app as per your requirements such as filter criteria, smart search, and more to enhance the search functionality of your website.
Although Shopify offers a default search app, it is not very effective at helping your customers make quick product searches on your website. It is not equipped with the functionality to process complex search behaviors or deliver highly-personalized search results. Hence, many eCommerce businesses like yours have started investing in other tools for site search optimization and improving product discoverability.
One such tool that is rapidly growing in popularity among Shopify businesses is Sparq Product Filters and Search. Sparq Search is an AI-powered tool that leverages machine learning, natural language processing, sentiment analysis, and predictive analytics to boost the performance of product searches on your online store. It offers the following features to craft an intuitive search experience for your customers and boost product discovery.
Lightning-fast loading times - Sparq Search delivers accurate results in less than 26 milliseconds.
Faceted search - To allow customers to find desired products based on various criteria all at once thereby decreasing the search time and delivering more personalized shopping experiences.
Autocomplete suggestions - To automatically suggest keywords to the customers to complete their search queries.
Synonyms -To improve the accuracy and relevancy of the search results.
Analytics -To identify and monitor customer behavior, sales performance, and more to boost business sales and revenue.
Check out this demo store to try out Sparq Search in real-time.
Optimizing your Shopify store search is an effective tactic to improve product discoverability and drive sales to your eCommerce store. By helping your customers find their desired products without any hurdles, you deliver seamless shopping experiences. Implement the tactics we have mentioned in this post to improve your Shopify search and see your business grow.
Why is my Shopify store not showing up when I search for it?
One of the reasons why your online store might not be showing up in search engines could be because of its age. If your online store is relatively new, then it might not have been indexed by search engines. You can submit your website sitemap to Google Search Console to speed up the indexing process.
Why do so many Shopify stores fail?
There could be various reasons why the Shopify store fails. Some of them are poor product-market fit, inadequate marketing, insufficient customer service, bad website design, improper financial planning, and more.
How do I get my Shopify site on Google search?
The first step is to optimize your Shopify store for search engines by adding relevant keywords, optimizing meta tags, creating user-friendly URLs, and more. As Shopify automatically generates sitemap.xml and robots.txt files, you do not have to generate them manually. You can also link your brand's social media pages to your website to increase its visibility even further.
Will it affect search if I change my Shopify store domain?
Yes, it can affect your Shopify store SEO and product rankings on search engines.