18 Nov 2022
How to Optimize Online Merchandizing for Shopify Stores?

The eCommerce sector has become a crucial part of the global retail industry. With over 12-24 million eCommerce websites worldwide, there is stiff competition among eCommerce retailers to attract and retain customers.
Online merchandizing is one of the widely used methods to reach out to customers, engage them, and boost sales. This strategic process of presenting and promoting the products to potential customers helps eCommerce brands to increase conversions, offer excellent shopping experiences, and generate revenue.
A well-planned online merchandizing strategy can help brands to grab the attention of shoppers while leaving a lasting impression on them. Whether you are using an eCommerce platform like Shopify or planning on setting up a website, online merchandizing cannot be ignored.
In this post, we will read about how brands can optimize their online merchandizing efforts on Shopify.
5 Ways to Optimize Shopify Stores for Online Merchandizing

Revamp the Website Design and Layout
Did you know that 50% of customers believe that a business's website design is crucial for its overall brand? Website design impacts the shopping experience positively by encouraging visitors to explore the products.
Here are a few tips on revamping the website design.
Use a clean and decluttered layout for the design. Focus on who your customers are and what they want from you.
Follow a color palette that goes well with your company branding. Pay attention to the colors you choose for buttons, headers, content, and more.
Make your website load faster by optimizing the code files, images, and other elements. The ideal website load time should be between 1-2 seconds. Choose a reliable hosting provider for enhanced speed and security.
Optimize the website for mobile and other devices. The website should provide a similar experience to customers when viewed on different devices having various screen resolutions.
Create an enticing homepage containing banners with top offers and discounts, sections highlighting trending products, best-sellers, and more. Showcase free shipping if you offer free shipping to the customers.
Improve the Site Navigation
According to goodfirms.co, 61.5% of customers leave a website because of its bad navigation. Customers should be able to find what they are looking for and traverse the entire website without any hassles. Hence, improving website navigation is essential for eCommerce businesses.
Implement the following tips to streamline the website navigation.
Think from the shopper's point of view and divide the products into various categories.
Write accurate navigation titles and make them clickable links.
Install a breadcrumb widget on the website to display the path to the current page.
Provide a consistent navigating experience on web and mobile devices. In fact, the global internet traffic from mobile devices accounted for 55% of this year. Hence, optimizing websites for mobile devices is crucial for brand success.
Include Additional Product Filters and Smart Product Search
Besides website navigation, shoppers prefer a smart search bar and intuitive product filters when looking for products manually. Did you know 43% of customers on retail eCommerce websites directly go to the search bar when they wish to make purchases? Also, it is found that customers who use the search feature are 2.4 times more likely to purchase products than the ones who don't.
So, an excellent search bar and filters are a must-have for all eCommerce websites. Sparq provides excellent product search and filters for Shopify to improve product discovery, provide a seamless experience to shoppers, and boost conversions. With its one-click installation, you can convert your eCommerce store to deliver outstanding customer experiences.
The advanced predictive search engine helps shoppers to look for the products they wish to buy without any hassles. The instant search is designed to identify the primary keywords from the search query and showcase matching products or collections in just a few seconds. Further, the auto-correction and smart suggestions feature helps shoppers find their exact products faster.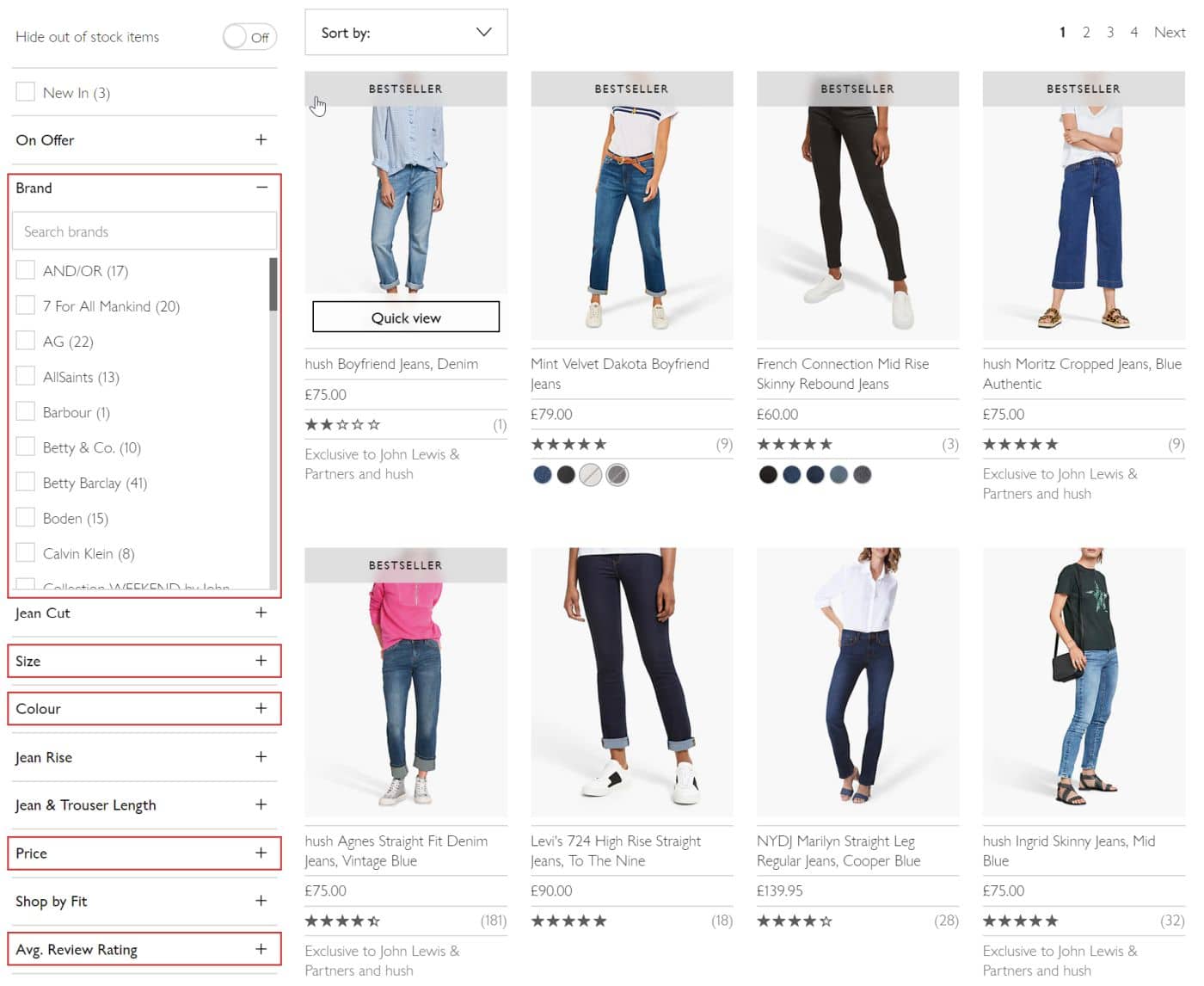 Sparq also offers excellent filter options to help customers sort and filter products as per their requirements. You can add intuitive filters, such as color swatch filters, single/multiple checkboxes, price sliders, brands, ratings, and more to your eCommerce store. In addition to this, you can create custom filters to match the unique needs of your store and improve customer experiences.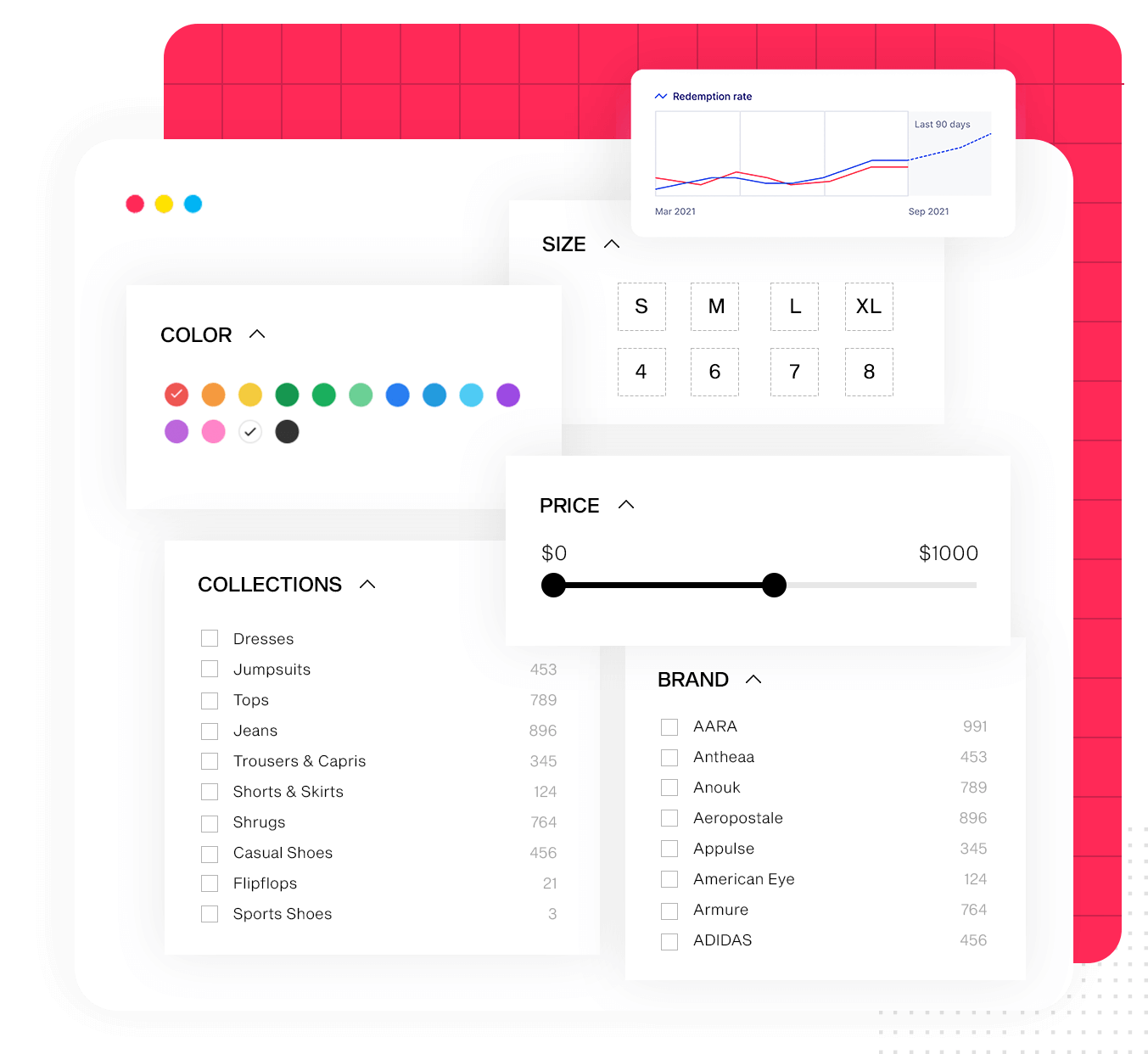 Provide Detailed Information About the Products
Share as many details as possible about the products as it influences the purchase decisions of many customers. Around 76% of customers consider product specifications as one of the major factors when making a purchase.
Let us have a look at a few tips to create an engaging product details page.
Include a detailed product description on the product page by including the details about how the product fits the customers' needs.
Add high-resolution photos and videos of the products to provide the customers with a fair idea about how the product looks in real life.
If your product is available in multiple colors or styles, include them on the product pages to help customers with choosing a color or style that fits their needs best.
Place the call to action buttons in a prominent position to guide the customers with purchases.
Leverage Reviews and User-generated Content to Your Advantage
Establishing a sense of trust among the customers and brand credibility is essential for the success of eCommerce brands. An excellent rating, a short review, or a social media mention goes a long way in building the customers' confidence in your brand.
According to Global Newswire, 95% of customers refer to online reviews before making a purchase. Also, 58% of these customers are willing to pay more for products that have positive reviews. These numbers indicate the significance of reviews for eCommerce brands.
Here are some tips to help you utilize reviews for optimizing your store.
Showcase the reviews, ratings, and compliments on the product details pages.
Publish user-generated pictures and videos on the product pages to assist customers in making better buying decisions
Place the reviews on the product pages in a way that the customers can read them easily.
Allow the customers to post their reviews and rate your products on certain criteria.
Respond to every review both positive and negative your products receive. If it is a negative one, respond to it and address the customer's issues.
Conclusion
Ecommerce merchandising makes shopping online easy for customers. By making good use of shoppers' data you can provide your shoppers a personalized shopping experience, A well-defined merchandising strategy enables online stores to guide shoppers through their shopping journey, encourages sales, and makes your shoppers come back to your online store and convert them into a loyal customer base. Optimizing your Shopify store for online merchandizing empowers the customers to find the products they wish to purchase without any hassles. You can help your shoppers navigate through your store and increase the discoverability of your products on your store through Sparq Search & Product Filters.