30 Oct 2023
Gift Sets for the Holidays: Why They're the Top Choice in 2023.

Wondering what to gift your loved ones this festive season? You're not alone. Each year, as the holidays approach, many of us find ourselves in a conundrum — seeking that perfect gift which resonates with thoughtfulness and affection, yet is practical and memorable. With a myriad of options available, the choice often becomes overwhelming.
But fret not, for you have landed on the right place! This year, there's a rising trend that combines elegance, practicality, and a touch of personalization: holiday gift sets. Curated with care and wrapped with love, these sets are not just gifts, but experiences waiting to be unveiled. Whether you're looking for something eco-friendly, gourmet, hobby-themed, or simply luxurious, there's a gift set tailored for every individual.
Dive in as we explore why holiday gift sets are the top choice in 2023 and how they can elevate your gifting game.
Holiday gifting is a cherished tradition that has been celebrated across various cultures and generations. It represents love, gratitude, and thoughtfulness, strengthening bonds among individuals. In many cultures, holiday gifting is more than just an exchange of presents; it embodies goodwill, hope, and aspirations for prosperity in the forthcoming year. From an economic standpoint, the gift industry plays a significant role in driving consumer spending, particularly during the holiday season.
Global Gift Market
The global gift market was valued at $62 billion in 2019. With an annual growth rate of 2%, it is projected to reach $68.45 billion by 2024.
Personalized Gifts The global personalized gifts market was valued at $25.8 billion in 2020. This segment is booming, with forecasts suggesting that its market value will surge to $43.3 billion by 2027, growing at a Compound Annual Growth Rate (CAGR) of 7.7%.
Gift Wrapping Industry The global gift wrapping industry was worth $15.1 billion in 2018. The demand for gift wrapping, especially gift boxes, has seen a rise due to the growth of e-commerce. Merchants are focusing on creating durable gift boxes that can endure various transportation conditions.
Gift Cards The global gift cards market was valued at $619.25 billion in 2019. With the increasing trend of online shopping and the reduced use of cash payments due to the pandemic, the demand for gift cards has soared. By 2027, the total market value of gift cards is estimated to exceed $2 billion.
Gift Sets and Popular Gifts Gift sets have become a popular choice for many consumers. They offer a cohesive and thoughtful present option, often curated to cater to specific interests or themes.
In 2023, some of the most popular gifts ranged from luxury coffee makers to cozy slippers and best-selling body care products. Many of these gifts are available on platforms like Amazon, making it convenient for last-minute shoppers.
Holiday gifting continues to hold emotional and cultural significance. The rise in the popularity of gift sets and personalized gifts indicates a shift towards more thoughtful and customized gifting options. The gift industry, with its evolving trends and consumer preferences, remains a vital sector, contributing significantly to the global economy.
The festive season is synonymous with joy, celebration, and of course, the age-old tradition of gifting. Every year, as we rummage through endless gift options, the perennial question arises - what makes the perfect present? Enter holiday gift sets - the modern answer to thoughtful, elegant, and hassle-free gifting. But what is it that makes these sets such a sought-after choice? Let's delve deeper.
Convenience
The most significant advantage of holiday gift sets is the sheer convenience they offer. Instead of spending hours (or even days!) searching for individual items, these pre-curated collections cater to a range of tastes and interests. Whether it's a gourmet food lover, a skincare enthusiast, or a budding artist in your life, there's a gift set tailored just for them. It's essentially multiple gifts, thoughtfully bundled into one, saving you both time and decision-making effort.
Value
From an economic standpoint, gift sets often present a better deal. When items are bundled together, they usually come at a price point that's more affordable than purchasing each item separately. This means you can gift a luxurious, varied assortment without burning a hole in your pocket. It's a win-win, offering both value to the giver and a bounty to the receiver.
Presentation
There's an age-old adage, "It's not the gift, but the thought that counts." But in today's world, presentation matters just as much. Holiday gift sets excel in this domain. Wrapped exquisitely, adorned with festive embellishments, and often encased in beautifully crafted boxes, these sets are as much a visual delight as they are in content. The presentation amplifies the joy of unboxing, making the entire gifting experience memorable.
In essence, holiday gift sets encapsulate the spirit of the festive season - thoughtfulness, generosity, and the joy of giving. They simplify the gifting process while elevating the experience for both the giver and the recipient. It's no wonder they've become a favorite choice for many during the holidays.
Holiday gift sets, with their curated collections of complementary items, have gained momentum as the go-to choice for many. This year, some clear trends have emerged, reflecting broader societal shifts and preferences. Let's explore the top trends in holiday gift sets for 2023:
As global consciousness about sustainability grows, eco-friendly gift sets have taken center stage. These sets prioritize products that are either made from sustainable materials, have minimal packaging, or support eco-conscious practices.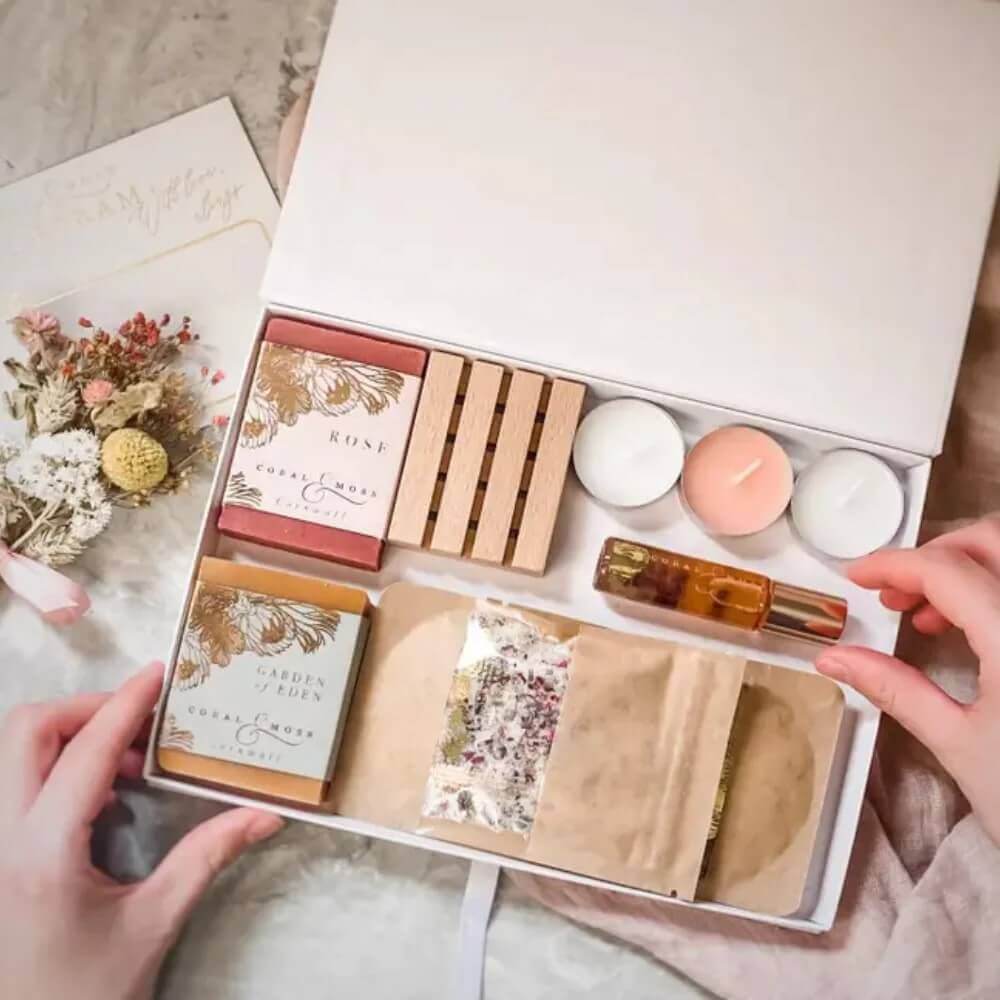 Description
The Spa Night Gift Set by Coral & Moss, available on EarthBits, is a testament to the rising trend of eco-friendly gifting. This enchanting gift set, infused with delightful botanical scents, offers a guilt-free indulgence, ensuring an eco-friendly, zero-waste spa night experience right at home. The set is thoughtfully curated with products that prioritize sustainability, from their organic ingredients to their minimalistic packaging.
Price: £60.00 GBP
Key Features:
Contents: The set comprises five items, including bath salts, an aromatherapy roller, artisan soap, lip salve, wooden soap holder, and tea lights. These items are carefully selected to provide a holistic spa experience.
Eco-conscious: The gift set is entirely plastic-free, emphasizing a natural and zero-waste approach. The organic ingredients ensure a rejuvenating spa experience without compromising on environmental values.
Handmade in the UK: Each gift set is handcrafted in Cornwall, UK, in small batches. This ensures meticulous attention to detail and the highest quality of products. Versatile Gifting Option: This set serves as an ideal present for various occasions, be it birthdays, Christmas, Mother's Day, or simply to pamper a loved one with the luxury of 'me time'.
Link to buy the product - https://earthbits.com/products/spa-night-gift-set-coral-moss
Catering to the creative and the curious, these sets typically include materials and tools for a particular craft or hobby – be it knitting, painting, gardening, or even bread-making.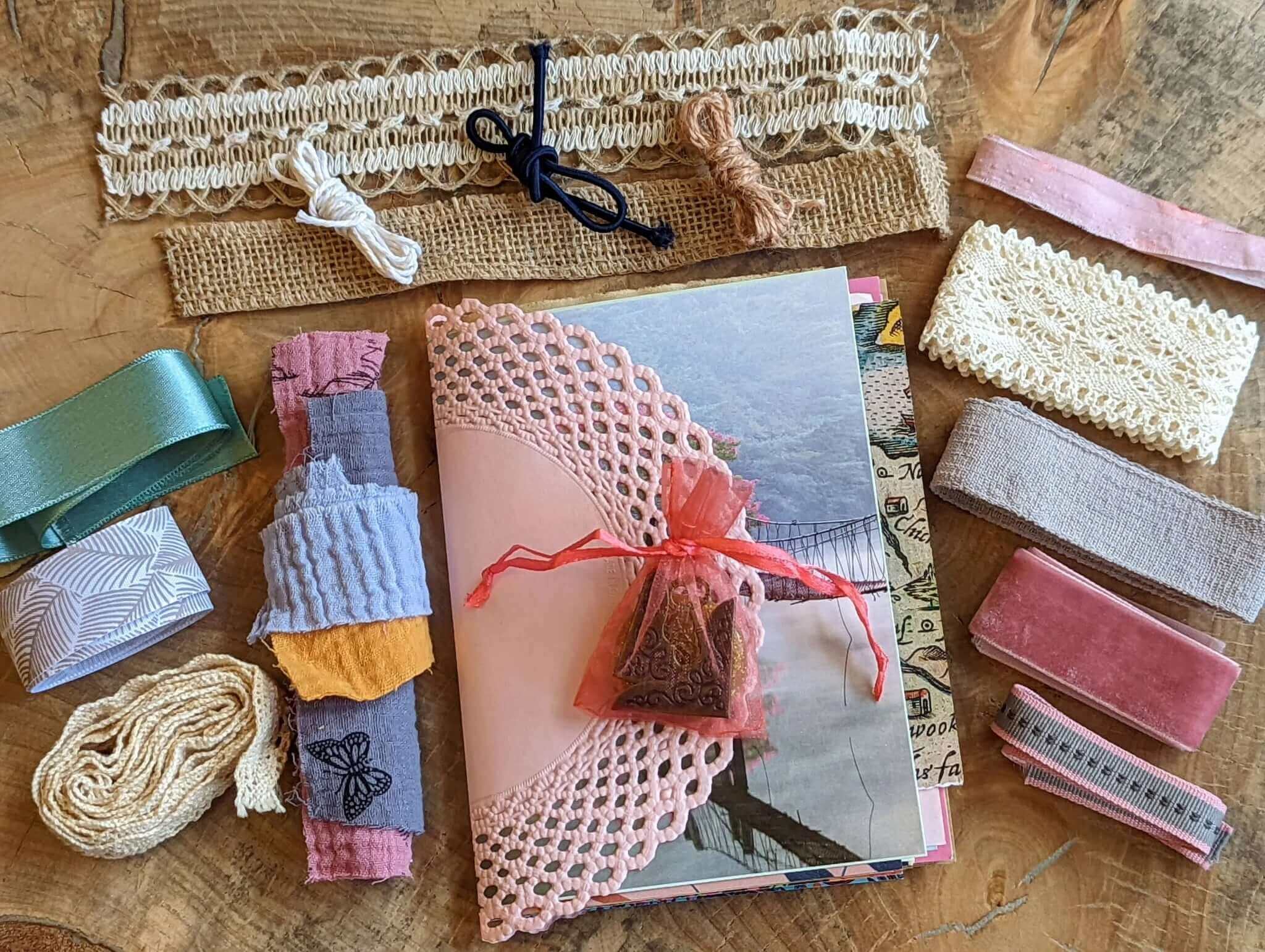 Description The DIY Junk Journal Craft Kit is a comprehensive set designed for those who have a passion for crafting and journaling. This kit, available on Etsy, provides all the essentials needed to create a personalized junk journal. It includes 28 different pre-folded papers, approximately of A6 size, amounting to 56 spreads in total. The papers are a mix of blank and printed designs, vintage and other decorative papers, some of which are colored and processed to give them a unique touch.
Price: $24.17 (plus $16.56 for delivery)
Key Features:
Versatile Paper Selection: The kit boasts a handpicked assortment of papers, ranging from blank to printed designs, vintage to decorative, ensuring that every page of the journal has its distinct character.
All-Inclusive Kit: Apart from the papers, the kit also includes accessories, embellishments, and decor items, making it a 50-piece starter set. This ensures that crafters have a variety of materials to work with, allowing them to unleash their creativity to the fullest.
Vintage Gift Idea: The vintage theme of the kit makes it a perfect gift for those who appreciate retro designs and aesthetics. Whether it's for a birthday, anniversary, or any special occasion, this kit is sure to delight the recipient.
Eco-conscious Crafting: The emphasis on using vintage and decorative papers indicates a move towards sustainable crafting, resonating with the current trend of eco-friendly hobbies.
Link to buy the product - https://www.etsy.com/listing/1297338375/diy-junk-journal-craft-kit-papers-plus?gpla=1&gao=1&
These bundles prioritize well-being and relaxation. Think essential oils, bath salts, face masks, meditation guides, and even fitness equipment.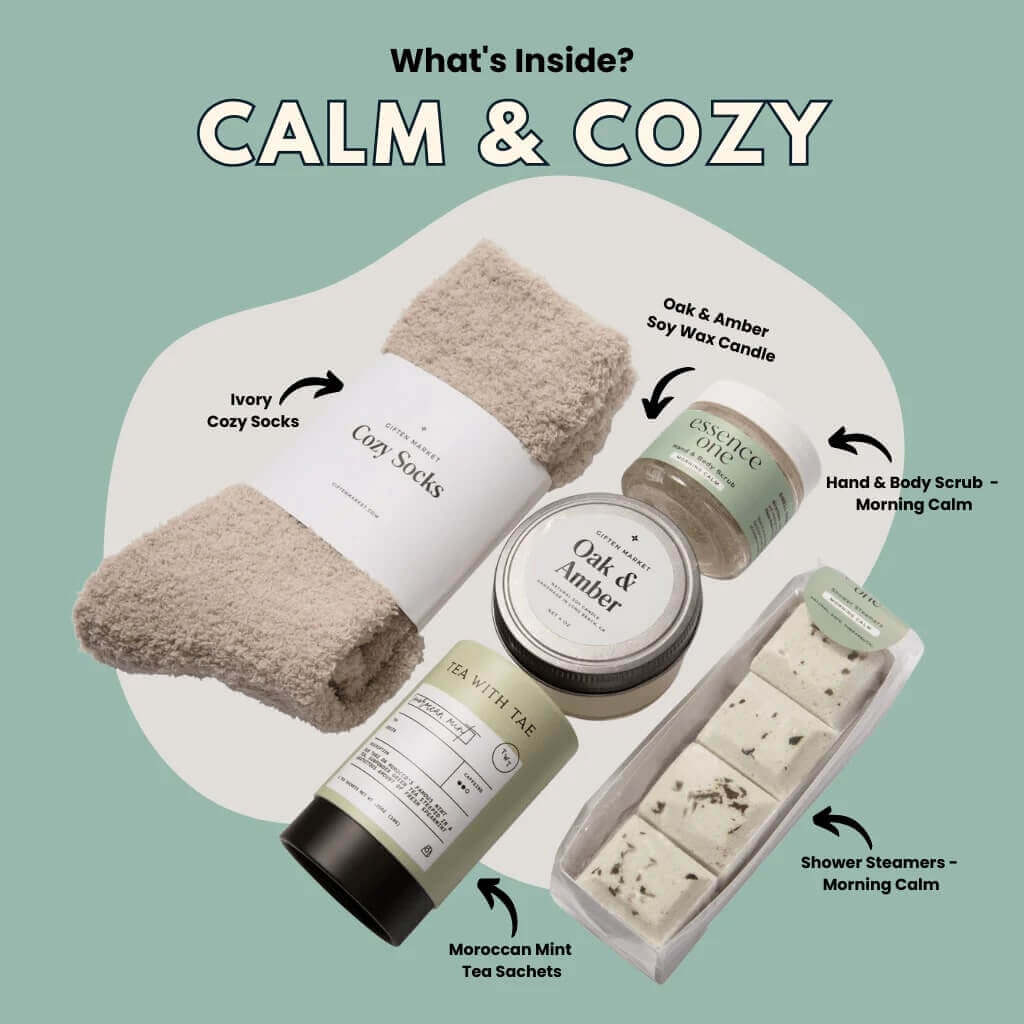 Description The Calm & Cozy Gift Basket - Morning Calm, available on Giften Market, is a curated collection designed to prioritize well-being and relaxation. This bundle encapsulates the essence of a serene morning, ensuring that the recipient starts their day on a positive and peaceful note. It's the perfect pick-me-up gift that showcases appreciation and care.
Price: $78.00
Key Features:
Cozy Socks: Available in either Ivory or Charcoal, these socks are designed to keep feet warm and comfortable, setting the tone for a cozy experience.
Essence One Hand & Body Scrub - Morning Calm: This scrub is formulated to exfoliate and rejuvenate the skin, leaving it soft and refreshed.
Hand-poured Soy Wax Candle - Oak & Amber: This candle emits a soothing fragrance, creating a calming ambiance in any space.
Tea with Tae Mini Tea Tube: A delightful tea blend that complements the serene theme of the gift basket.
Aromatherapy Shower Steamers: Designed to elevate the shower experience, these steamers release therapeutic aromas that relax and invigorate the senses. Deluxe Gift Wrap + Enclosure Card: The gift set is beautifully packaged, complete with an enclosure card, making it ready for gifting.
Link to buy the product - https://giftenmarket.com/products/morning-calm-gift-basket
For the epicureans, these sets offer a range of gourmet delights – artisanal cheeses, handcrafted chocolates, exotic teas, or even boutique wines.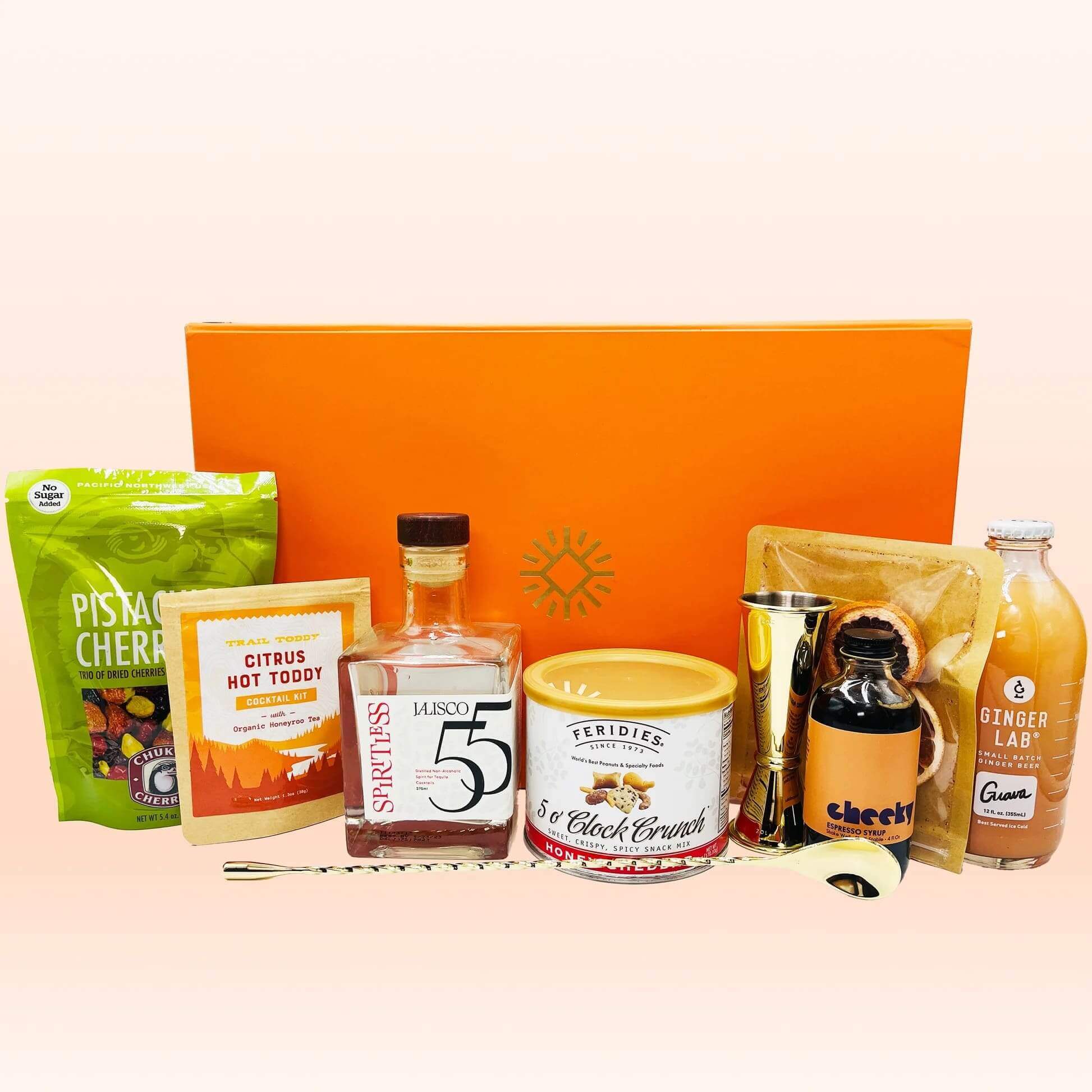 Description The Thirsty Box, curated by Joyful Co, is a luxurious collection designed for those who appreciate the finer things in life, especially when it comes to beverages. This box is the epitome of gourmet drink experiences, bringing together a selection of premium ingredients and tools to craft the perfect drink, whether it's a cocktail or a mocktail.
Price: $149.00 USD (with free shipping)
Key Features:
Aromatic Non-Alcoholic Tequila Substitute: Experience the essence of tequila without the alcohol, perfect for crafting mocktails.
Sweet and Spicy Guava Ginger Beer: A delightful fusion of flavors that adds a unique twist to any drink.
Citrus Hot Toddy Cocktail Mix: A warming blend that's perfect for those chilly evenings.
Delectable Dehydrated Blood Oranges: A garnish that not only looks good but also enhances the flavor profile of your drink.
Rich Espresso Syrup: Add a touch of boldness to your beverages with this rich syrup. Crunchy Cheddar and Honey Snack Mix: A savory treat to complement your drink.
Delightful Pistachio and Cherry Fruit and Nut Mix: A healthy and tasty snack option. Gold Jigger & Cocktail Spoon: Essential tools to measure and mix your ingredients to perfection.
Link to buy the product - https://joyfulco.com/products/thirsty-box
Tailored for the tech-savvy, these sets include a variety of gadgets and accessories, from wireless chargers to smart home devices.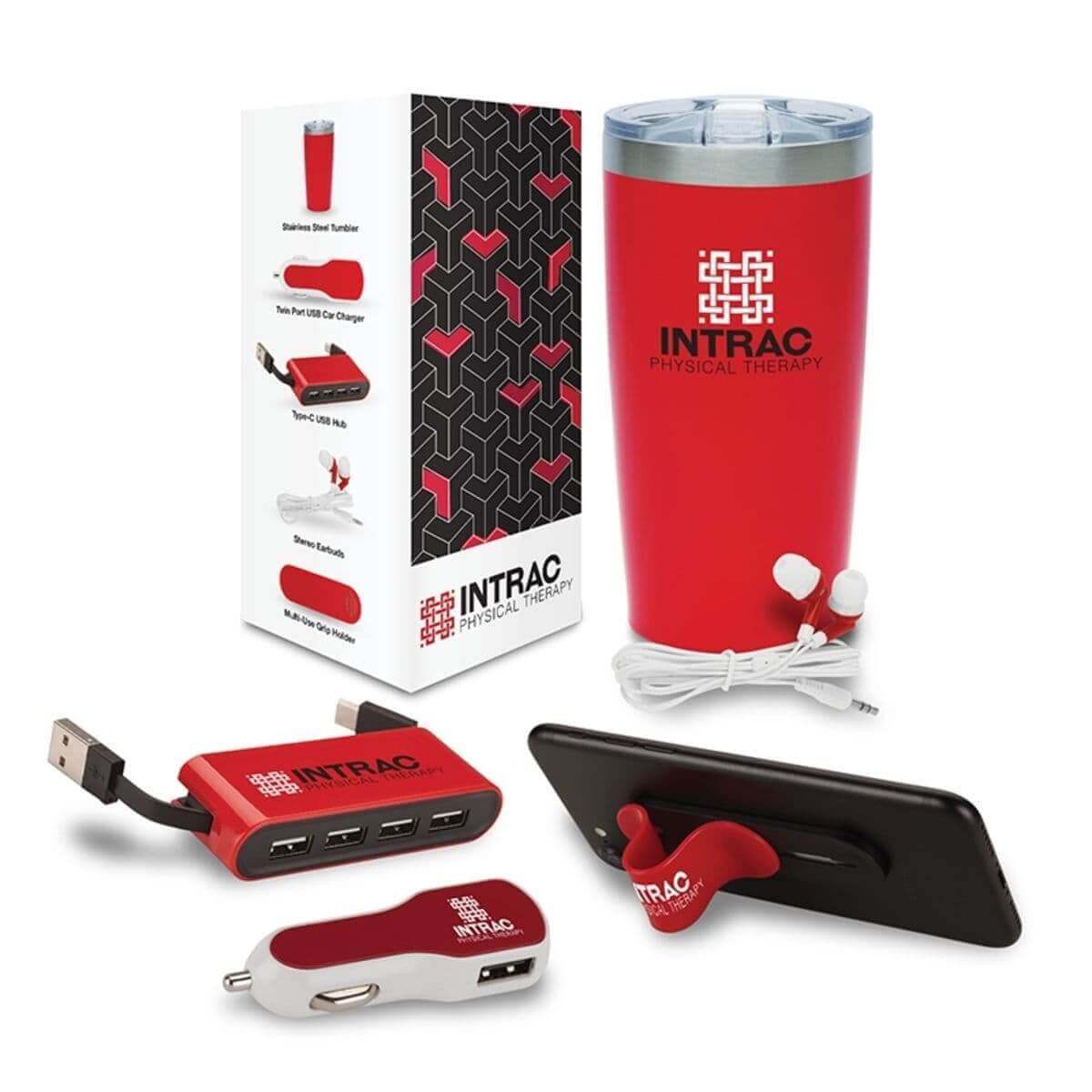 Description: The Analog 5-Piece Technology Gift Set, available on Inkmule, is a comprehensive tech bundle tailored for gadget enthusiasts. This set brings together a selection of essential tech items, ensuring that the user is equipped with the latest and most useful gadgets and accessories.
Price: $33.24 USD (Special Price)
Key Features:
Twin Port 2A USB Car Charger: Charge your devices on-the-go with this efficient car charger.
Silicone Stereo Earbud Headphones: Enjoy your favorite tunes with these comfortable and high-quality earbuds.
4-Port 2.0v USB-A Hub with Type A and C Connectors: Expand your device's connectivity options with this versatile USB hub.
Multi-Use Finger Grip Holder and Stand: Enhance your device handling experience with this ergonomic grip holder and stand.
20 oz. Stainless Steel Tumbler: Keep your beverages at the desired temperature with this vacuum-sealed, copper-lined tumbler with an exterior powder-coated finish.
Additional Features: The set also includes a delectable hot toddy cocktail mix, aromatic non-alcoholic tequila substitute, guava ginger beer, dehydrated blood oranges, rich espresso syrup, and a cheddar and honey snack mix.
Link to buy the product - https://www.inkmule.com/products/analog-5-piece-technology-gift-set-gs8032
As the festive season approaches and the spirit of celebration permeates the air, there's a distinct advantage to those who choose to embark on their holiday shopping spree a tad earlier than the rest. Commencing your shopping journey in the early days of November presents a plethora of benefits that can elevate your gifting experience. Here's why early November shopping could be your best strategic move this holiday season:
The festive frenzy usually reaches its peak in December, leading to crowded stores, longer checkout lines, and depleted stocks. Popular items, especially those trending in 2023, are likely to fly off the shelves faster than retailers can replenish them.
By shopping early in November, you can enjoy a more relaxed and less chaotic shopping experience. Plus, you'll have the first pick from the best collections, ensuring you get exactly what you desire without the disappointment of hearing "out of stock."
Personalized gifts, whether it's an engraved piece of jewelry, a monogrammed diary, or a custom-made item, often take additional time for preparation.
Starting your shopping journey early provides you with ample time to add these unique touches. This ensures that your gifts are not just off-the-shelf items but carry a special significance, making them memorable for your loved ones.
With the growth of e-commerce, it's not uncommon for people to order gifts from international vendors or send presents across borders. However, international shipping can sometimes be unpredictable, with potential delays due to customs clearances, logistic hold-ups, or seasonal shipping volume spikes.
Shopping early in November gives your parcels a head start, ensuring they reach their destinations well in time for the holidays. This is especially crucial if you're shipping gifts internationally, as it provides a buffer for any unforeseen delays.
In essence, while the festive season is about joy, togetherness, and making memories, a strategic approach to gifting can enhance the experience manifold. Early November shopping is not just about ticking items off a list; it's about thoughtful planning, ensuring quality, and making every gift count.
The act of gifting is a timeless tradition, an embodiment of love, care, and thoughtfulness. It's not merely about exchanging material objects, but about forging deeper connections, sparking joy, and creating cherished memories. This year, holiday gift sets have emerged as a beacon in the world of gifting – a perfect amalgamation of variety, thoughtfulness, and practicality. From eco-friendly sets resonating with the conscious consumer to gourmet collections that satiate the discerning palate, these curated bundles encapsulate the essence of the festive season in every box.
But the art of perfect gifting doesn't stop at just selecting the right gift. The way we approach our holiday shopping journey plays a pivotal role in ensuring that our gifts resonate with our intentions. Starting early, especially in the promising month of November, provides the luxury of choice, the guarantee of timely arrivals, and the pleasure of a stress-free shopping experience.
So, as the festive spirit starts to light up our hearts and homes, let's not wait. Embark on your holiday shopping journey now, embrace the charm of holiday gift sets, and gift not just objects, but experiences, love, and cherished moments.