27 Jan 2022
Top 4 ways Successful Brands use to Personalize Customer Shopping Experience

With the global rise of shopping sites, gaining customer attention turns out to be a hassle for most eCommerce merchants. Attracting people and then converting them into customers is a task for marketing agencies resulting in lower conversion rates. Such a scenario generates the need to find apt customer-centric solutions. Optimizing customers' shopping experience via eCommerce personalization opens up a door for advancement in sales and also results in a boost to conversion rates.
Shopify surveyed buyers that offer Black Friday sales and found that 59% said they welcomed personalized product recommendations. Brands targeting millennials have an even bigger potential—that number jumps to 78% within this particular segment.
In the midst of a global pandemic that has peculiarly erased face-to-face interactions, there's no better time to assess your own business' personalization efforts. The traditional brick-and-mortar businesses too have diverted focus to their online stores or launched their website for the first time. You can recreate this magic of visiting your store in person with a few simple tools. As a retailer, the term 'personalized shopping experience' may seem overwhelming. But one who changes and adapts with the upcoming techniques excels leaving the rest behind!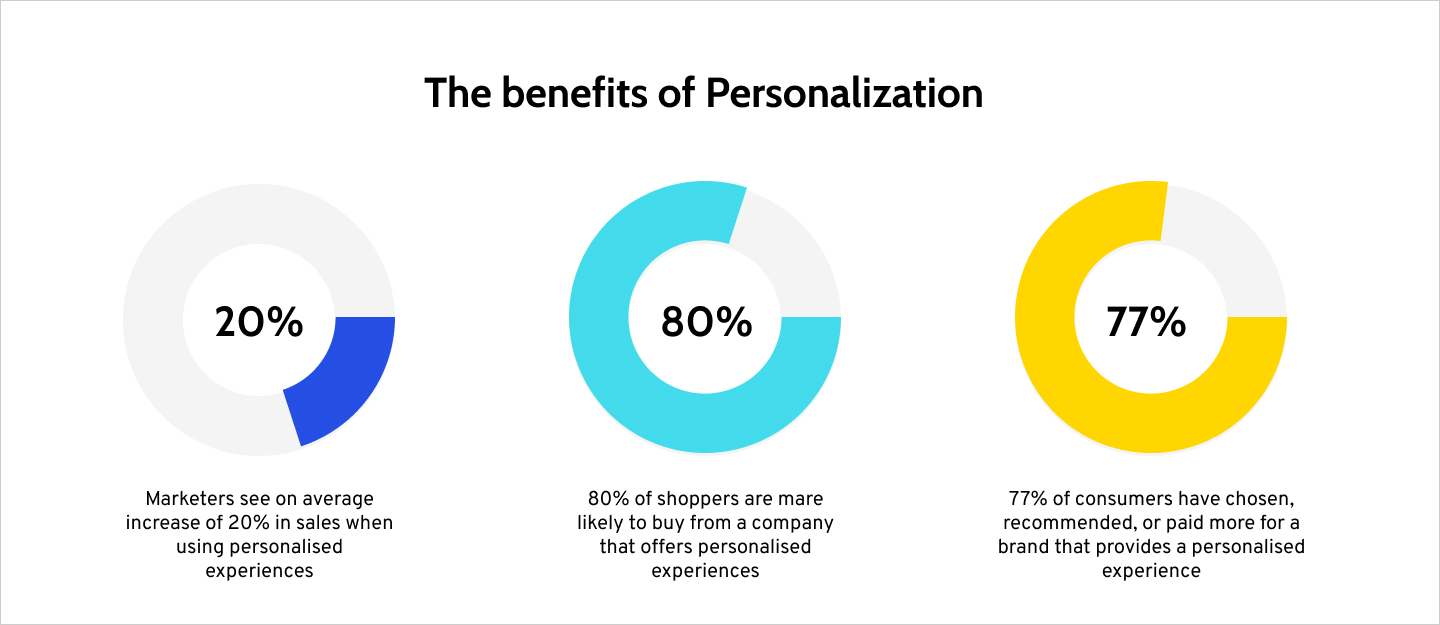 As per a study by the World's #1 Commerce Experience Cloud, BloomReach 80% of the shoppers are more likely to buy from a company that offers a personalized customer experience.
Let's have a look at the personalization pioneer- Amazon.
As the ruler of large, pure-play, eCommerce retailers, Amazon has used sophisticated analytics to shape its personalization efforts. Over a period of time, Amazon has expanded its personalization programs to show customers other products that are often purchased with the item they are viewing, display items that can be bundled with products in a customer's cart, and recommend additional products along with some discounts in the e-mails it sends to confirm transactions.
Amazon is now raising the personalization bar with ever-more-granular and innovative offerings to individual customers. For example, Amazon Prime Wardrobe has recently launched a personal shopping service exclusively for its Prime members. Customers complete a survey about their styles and fit preferences, and a team of stylists provides personalized recommendations from more than half a million items across brands available on the platform. Amazon will probably continue to lead innovation in personalization, but other, smaller retailers with far less sophisticated processes are setting new standards, too.
Are you wondering about the best techniques to provide eCommerce personalization? Don't worry we have got you covered! Read on to know personalization pays off:
Customer engagement
When it comes to eCommerce sales, customer engagement is the key to getting business. It is the most common though essential customer-centric solution. But how would you engage your customers? Remember to ascertain the following things:
Who is your target audience?
Analyze which age group, gender, nationality, etc. gives you the major chunk of your sales. Mark them as your target consumers. Design your products and use marketing and advertising techniques as per their preferences.
Know your customer
Sandi Krakowski has well said, "Lead people with what they want. – Lead with what they've already said. – Lead people from where they're at. – Lead them with the things that concern them". Customer engagement comes with knowing the psychology of the targeted age group. Comprehend and mold your products as per the liking of your prospects.
Omnichannel experience
As surprising as it may sound, companies that are able to personalize the customer experience across omnichannel can achieve a 5 to 15 percent revenue increase across the full customer base.
Sephora, the international beauty-products retailer, offers personalized experiences in its presentation to consumers. Speaking of the company's digital channels, especially its mobile app, it encourages customers to book in-store makeovers and fashion consultations. The app's "in-store companion" feature enables users to find a store, check to see if an item is in its stock, and book a reservation. When a customer chooses to have her makeup done in stores, she receives a log-in for the app so that the makeup artist can input each product she or he used into the customer's personal profile. The app also allows customers to virtually try on products and to receive recommendations based on their personal beauty traits. When customers visit a Sephora store, they can use the app to find the products they have virtually sampled.
Specific customer-Specific product-Specific price
Introducing this is a salient attribute of customer engagement. A specific product sticks to the memory of the customer and adds recall value. TELUS International and Harris Poll survey states 2 in every 5 Americans(42%) are likely to switch brands for personalized customer experience.
Upright Search Experience
Albertson, an American online grocery store was struggling with poor search results - they weren't very accurate and lacked relevance. This led to high bounce rates and lost revenue. Nearly 50% of their eCommerce turnover was attributed to search, so it made sense to improve the search experience first. Therefore they implementated AI-driven algorithms to power customer research. It helped them to offer personalized search results and product recommendations and guess what? Basket-building speed went up by over 25%.
While Shopify offers a basic search but using apps like Sparq can enhance this specific search experience which helps you retain the customers. Unleash the power of AI enhanced Search!
Closing the personalization loop- returns
In 2019, as per the digital report of Data Reportal, eCommerce buyers spent more than $620 billion on fashion and beauty. That's a lot of product going out, but what's coming back? The online return rate for clothing and shoes is estimated to be 30%-40%, according to the experts, while the average rate across all industries is only 20%. But yes, returns happen!
Even after taking the extra measures to match the right product to the right buyer. Having a simplified and customer-friendly returns process is, therefore, an important part of closing the loop on the personalized experience. A painless returns experience drives loyalty, studies suggest 95% of respondents said they would shop at a retailer again after having a positive returns experience.
What sets Amazon apart is the customer-friendly return policies in the eCommerce world. With easy-to-read, quick, and understandable return and refunds policies, Amazon makes it incredibly easy for customers to return products and get refunds. Customer retention is the key!
Some Shopify apps, like Loop, give your customers more ownership over the returns process and tailor each experience with smart rules.
Multi-channel Marketing
At first glance, Multi-channel marketing might seem bizarre. Multi-channel marketing can be defined as the procedure of customer interaction using a variety of direct and indirect channels. The channel can be a direct interactive channel, social media, website, emails, etc.
On a personal level
Interacting with customers on a personal level becomes an easy task if performed wisely. As a retailer, you can guide customers throughout the store, giving them enough personal attention, you can share your contact info, ask them to share their contact info, contact them whenever new stock adds up in your store and ask them if you can assist in delivering the products to their home. Be smart enough to build your system of customer interaction. As an eCommerce vendor, you can draft a procedure of customer interaction through emails and super bots for your app or website on a personal level.
For a range of people
Building a website can do wonders but with the enormous growth of social media, your presence on social media platforms is a must. Being active on various channels engages pre-existing customers along with attracting new visitors. Therefore, helping you boost conversion rates.
Indeed, the 2020 State of Multichannel Marketing Report suggests multichannel marketing including direct mailing gives an 18% higher return of investment than Multichannel Marketing without them. 84% of marketers are in the favor of direct mail for increasing the performance of Multichannel Marketing.
How does social media affect sales?
On social media, memes are one of the best forms of customer interaction. Building a larger market through customer interaction adds another level of twist to the customer's shopping experience. That's how eCommerce personalization functions.
Oberlo shows 73% of marketers agree that social media marketing widens the market and in this way is effective for their respective businesses.
![How does social media affect sales?(/img/blogs/Social-Media-Is-Important-to-My-Business.jpg)
This reflects how social media marketing impacts sales by increasing customer interaction.
Freebie Marketing

Though underestimated, freebie marketing is a very powerful strategy for personalizing customers' experiences.
Think like a customer. Who doesn't like free products? Freebie marketing is one of the customer-centric solutions for increasing customers' shopping experience. Freebie marketing works with the strategy of selling a high-priced product by offering a low-priced product for free. The free product attracts many customers, leading to an increase in sales. Even big successful companies use this technique to increase their product sales.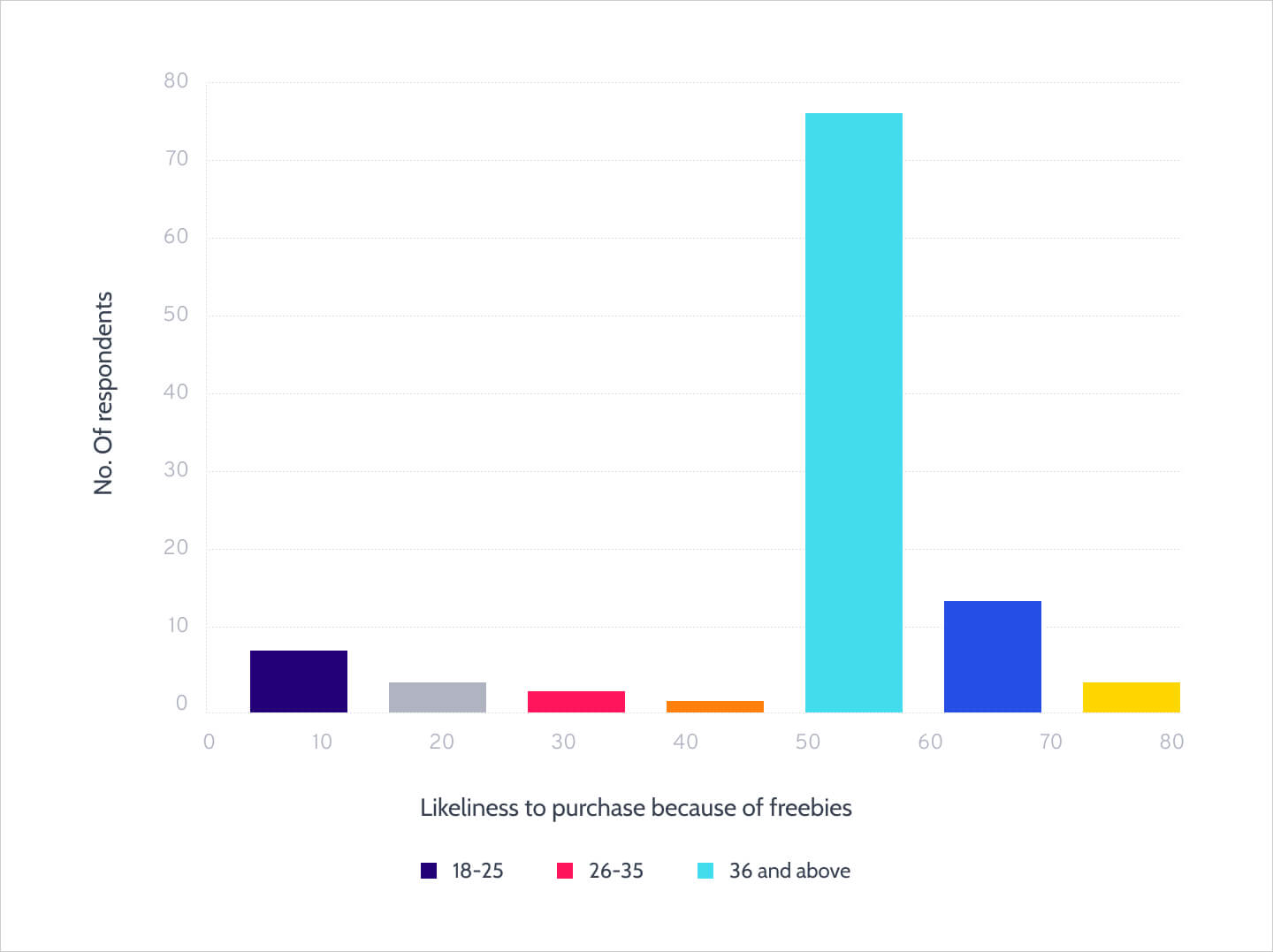 Benefits of freebie marketing
This method is used to understand customer preference of getting free products, thus giving them a personalized customer experience. Buy three soaps and get one free, buy a hamper containing products from Loreal at a cheaper price, free Coca-Cola only for students, 1 GB data free on buying a Lays pack, and many other examples have fetched our attention for several years!
Many researchers claim a rapid increase in sales after the launch of freebie marketing. According to thealtantic.com, in some cases, a boost of 2000 percent is experienced in sales.
Along with boosting sales, freebies add a recall value to your product brand as the free product displays the brand's logo. It helps the brand reach an even diverse public.
Free products attract. Freebie marketing welcomes new visitors to become new customers, thereby boosting conversion rates. A survey states a rise of 25-30% in conversion rates due to free sample testing.
Analyzing customer Information
Dive in and collect data containing valuable customer information. Notice their buying behavior and purchasing choices. Making profiles of the customers helps to reach and understand the levels of their choice of a quality product. This helps you in examining them in more detail and will give you a better understanding of their likes and dislikes. Use this data to personalize their shopping experience.
Location-based marketing often results in a boost in sales. Know where the customer belongs and adjust your selling products accordingly. Whenever you get a chance to interact with them personally, try to develop a customer-friendly relationship. This will add to their recall value. Whenever they'll be in need to buy some product, the thought of your store will thrive in them. You can now utilize this opportunity the best you can.
44% of consumers profess their liking to come back to a store that provides a personalized shopping experience. Many of them do agree to pay more for an even better-personalized experience.
In 2018, Accenture led a global survey of 8000 customers. The report showcases, "91% of consumers are more likely to shop with brands who recognize, remember, and provide relevant offers and recommendations." Nearly 73% of respondents agree that businesses do not interact or communicate with them in a personal way.
Getting personalized treatment is today's demand. The product that touches the customer's heart, that matches the customer's lifestyle, goes through the most sales.
The Bottom Line
The list of benefits of offering personalized customer experiences is endless. A personalized shopping experience not only gives you better customer engagement, but also increases the chances of customer repurchase, boosts conversion rates, and gives an overall rise to your sales and business. Utilizing customer experience is a demand for the decade.
As a company or retailer, finding customer-centric solutions, and understanding customer demands must be your priority. Giving your consumers a personalized customer experience might take an extra effort from your end, but, putting in this small extra effort can prove to give you twofold benefits. First, by fulfilling their urge for a personalized customer experience, and second, by increasing your product sales.
Customer experience through eCommerce personalization is the key to the door of growing wider and deeper into your respective businesses.
Happy sales!