07 Jun 2019
4 Design Tips for Search Results Pages Shopify Merchants Should Know

You go to an online store and are looking for a pink pullover in size 'L'. Unfortunately, you keep on juggling for the next 7 minutes to find the one that matches your requirement. Post which you get exasperated and switch to another competitor's website. Will you return to the same website to again find your desired pullover?
Well, the answer seems no. Such unwanted events also happen with a lot of customers every single day. The search result is an important factor that can lead you to get monetary benefits from a prospective buyer.
When it comes to online shopping, search results are an important interaction in the context of online shopping. Customers not only perform a search on worldwide search engines like Google, Yahoo, etc, but they also type the majority of their queries on the little search boxes on the websites. While online merchants can't modify the design as well as their ranking on Google but they can definitely optimize the one on their own eCommerce store to stimulate website search experience for their customers and boost eCommerce conversion rate.
Do you know that only 54% of the top USA-based eCommerce websites display sufficient content in the product listing to take their customers swiftly through the sales funnel? Lacking essential information can keep shoppers going back and forth between the product page and product list and is a big turn-off for most of the customers.
Let us take a use case. Suppose you have a B2B business model. Your client has a larger product range and a lot of non-product content available on his online store which he wants to optimize so that his customers or prospects are able to see specific types of results. What would you do? The online store search function is considered a fully-featured, powerful tool for online shoppers to search across all of a website's products, articles, and pages. As your clients' store is more complex, he may require a more systematic search process to filter out certain results or prioritize products over regular content pages to take his prospects easily through the sales funnel. This is where working with custom search options takes priority.
This article will outline the best practices to design effective search result pages. Read on to know more!
For a long time eCommerce stores have been using the left-hand vertical filter sidebar but now the horizontal filter toolbar is gaining popularity. Indeed, a Baymard study shows that 24% of the top 50 USA eCommerce businesses favor a top filter tree combined with sorting options.
A customized drop-down menu is also an excellent idea to optimize the space for filtered values, but the chosen values shouldn't be hidden in the drop-down. Online shoppers should be well aware of the applied filters and be able to delete them in a quick and easy way. This way, filtered navigation becomes easy.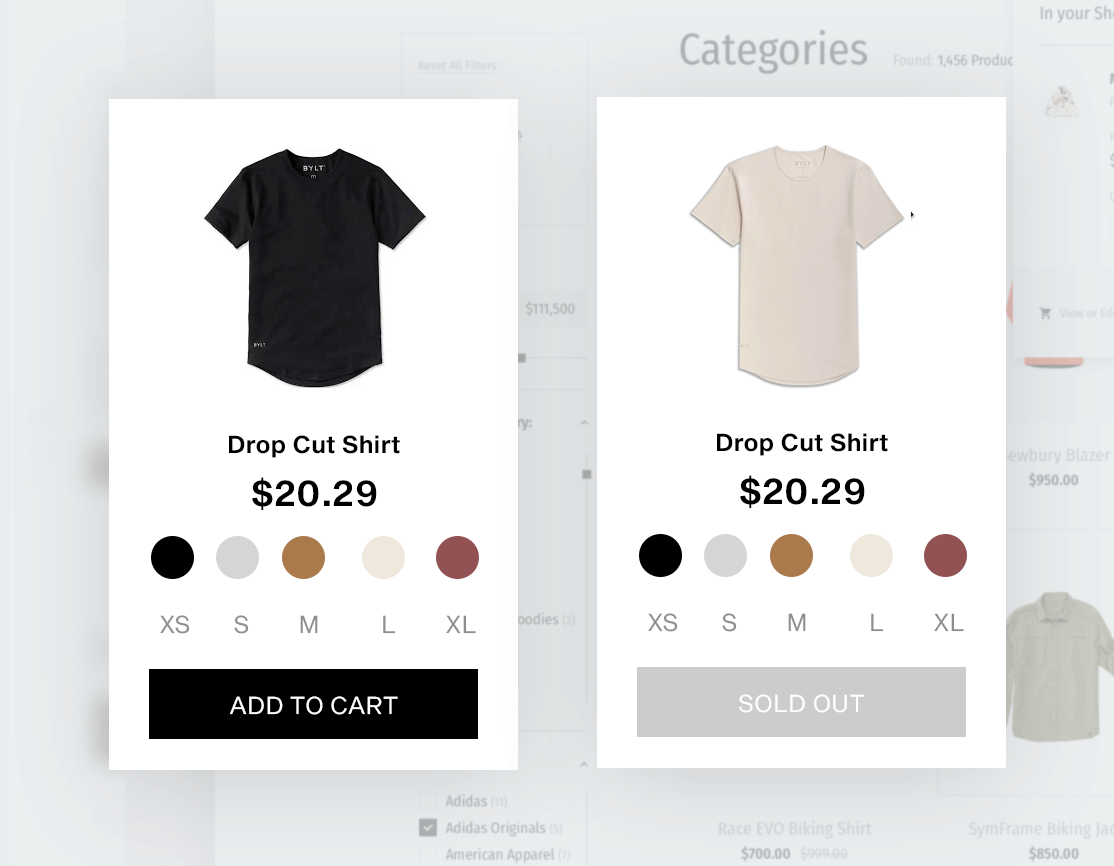 Displaying sold-out products on search result pages often brings the pr4 Design Tips for Search Results Pages Prospective buyers a lot of frustration. Why display products that are not available for sale? This is especially relevant if you are running a flash sale or BFCM promotion, and customers are looking to reach available products quickly but frown by seeing the old-out products.
For instance, if I have a number of products that match the term "shirt" but are sold out, they will still appear in my search results. In this example, the ideal situation would be that I remove the yellow shirt and red shirt that is no longer available for sale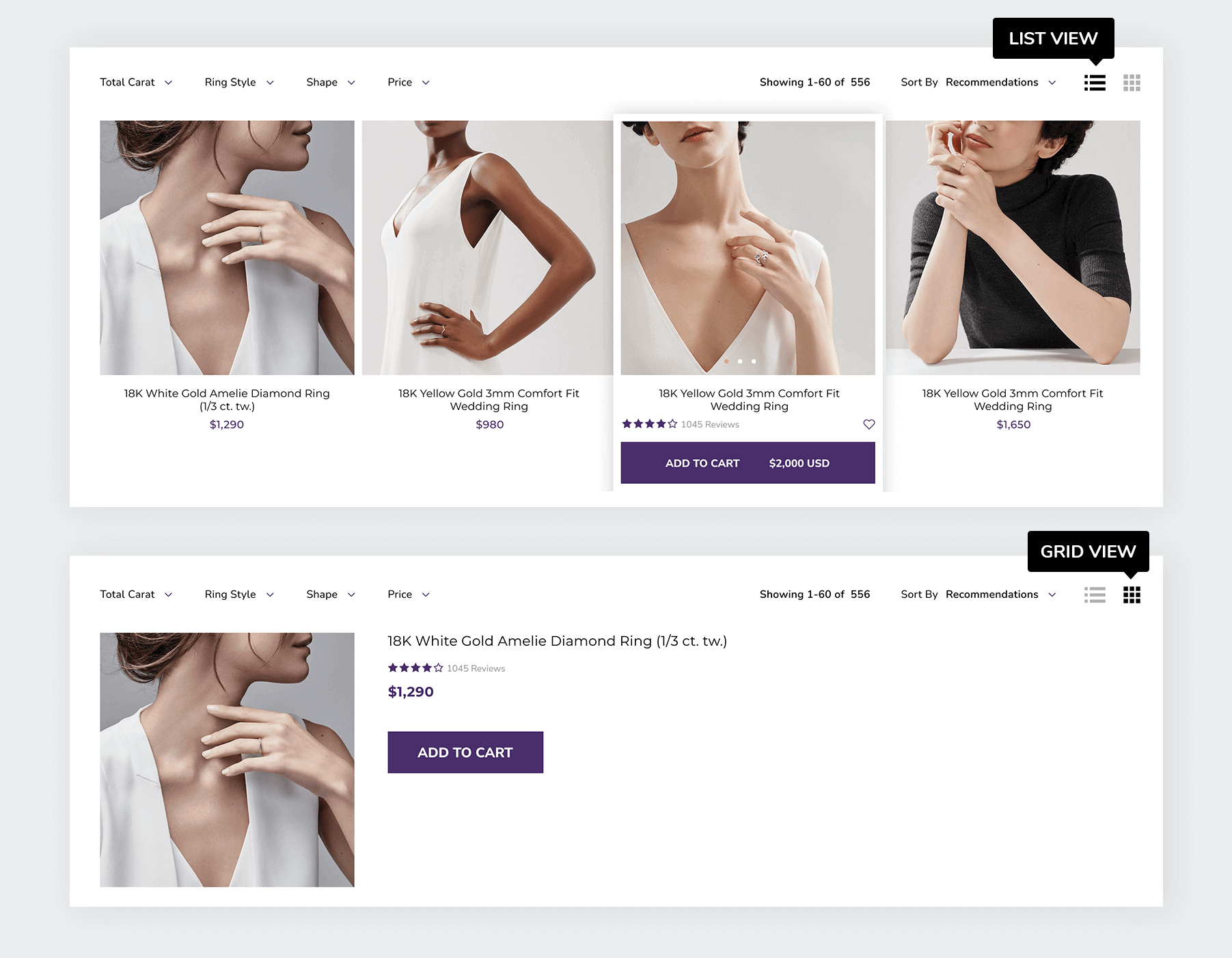 Next comes the concern about List view and Grid view. You must be wondering what's the difference and what's their use case?
List view: It is suitable to show product details, mostly used for electronic devices or products with a lot of specifications that are important for shoppers to read before making a purchase decision.
Grid view: is the best option where the product visuals are concerned. In the majority of the eCommerce websites, appearance is the basic factor on which customer makes a purchase decision such as fashion stores, home decors, lifestyle items, kitchen wares, and more. A grid view is a must for such eCommerce stores.
If you have diverse categories in your eCommerce store like Amazon, Myntra, etc then consider using a combination of these two views and let customers choose how they want to see the product listing.
One of the most troublesome questions that designers usually face is whether to opt for a load more button or choose infinite scrolling or opt for the standard pagination is the best option.
Pages in the search results usually make the prospects spend more time on the first page only, rarely do they check out the products on the second and third page considering that the best stock is in the initial pages only. So the downside is they are less likely to browse the next few pages.
Whereas, if you consider endless scrolling, it is a much more smooth and seamless process for customers with the least interruption. As a result, customers can quickly browse through all the products listed on your eCommerce stores. They will view far more products when using infinite scrolling in comparison to the load more option or standard pagination.
However, some online store owners say that because it's too easy to just scroll down, online shoppers aren't able to focus on individual products. They are just scanning and not paying attention, therefore, the online conversion rate becomes low.
Customizing your online Shopify store search can be a powerful tool for increasing the conversion rates and enabling customers and prospects to access available products easily while filtering out unnecessary content. While designing it is also vital to be mindful of what kind of search functionality will suit your different clientele and business model so that you can create bespoke solutions for each of their requirements. Hopefully, with the help of this article, the optimizing search will be a little bit easier for you!