05 Dec 2022
Why Google Analytics are Important for your Shopify Store and How to set them up

With the competition for attracting and retaining customers getting fiercer day after day, eCommerce businesses must leverage the right tactics to understand where the customers are coming from and how they are using your store.
As the customers are sitting behind their computer screens making purchases, capturing their feedback about your products or overall store experience via surveys might only sometimes be feasible. Hence, eCommerce businesses must tap into new avenues, such as website analytics, social media analytics, email marketing insights, and more to better understand the visitor's behavior.
There are various tools that monitor these analytics and provide smart insights into business performance. In this article, we shall learn about the famous tool for monitoring website analytics i.e. Google Analytics, and how it can help eCommerce brands scale their efforts.

Google Analytics is a web analytics software that tracks and reports website traffic with the help of a variety of metrics. These metrics include page views, click-through rates, conversions, traffic sources, bounce rates, and more. This free tool can be configured for all kinds of websites including Shopify to monitor the behavior and activity of visitors.
Google Analytics gives you detailed insights into your website visitors across various devices and platforms, thereby giving a complete understanding of their journey with your business.
Helps in understanding how customers interact on your website
Gives smart insights into customers' actions and helps you anticipate their future behavior
Integrates with various other tools to monitor the marketing performance
No wonder, Google Analytics is currently being used by over 28.1 million websites and is one of the most popular website analytics platforms today.
Google has recently announced the sunset of the Universal Analytics tool, thereby making Google Analytics 4 the standard analytics tool. While the UA focused on sessions and pageviews, GA4 leverages event-based data from websites and apps to provide customer insights. GA4 offers a plethora of features to provide deeper analysis into your customers.
Improved tracking of customer journey
Excellent user engagement analysis
Improved user privacy and tracking
Simple process for goals and events setup
Enhanced reporting capabilities

Shopify is one of the preferred platforms for building online stores for eCommerce businesses. Over 4.1 million eCommerce websites are built using this intuitive platform. In fact, Shopify does offer a few intelligent features that can help eCommerce businesses optimize their stores to engage customers.
However, these features are usually limited to providing basic functionality. For example, the Shopify filter panel offers basic filters, such as price, brand, and other criteria. Similarly, the Shopify search box is not configured for making smart suggestions. Hence, eCommerce businesses are leveraging smart filters and product search tool, such as Sparq.ai to provide customers with seamless experiences when making their purchases.

Similarly, Shopify analytics offers basic reporting and insights on the free plan. If you wish to have deeper insights into your store's performance, you have to subscribe to higher plans. Paying for expensive plans is not feasible for every eCommerce business. Hence, leveraging Google Analytics is a wise choice.
Google Analytics is better than Shopify analytics for the following reasons.
Shopify Analytics gives insights into customers, products, inventory, sales, and orders. However, it is not very efficient in providing details about visitor behavior, customer journey, marketing analytics, and more. Google Analytics is more equipped to provide a complete view of both aspects.
You may observe some discrepancies in Shopify Analytics, such as the number of sessions, the manner in which unique visitors are counted, and more. Google Analytics provides more accurate results than Shopify Analytics.
Migration to another platform might result in loss of data with Shopify Analytics. However, using Google Analytics ensures that your eCommerce analytics and report history remains intact no matter which platform you choose.
Google Analytics helps you in knowing your customers better in addition to providing insights about optimizing your eCommerce store for better conversions. Hence, integrating Google Analytics with your Shopify store is important.
Setting up Google Analytics in your Shopify Store is an easy process. Follow the below-mentioned steps to get started.
Create a Google account for your eCommerce business. If you already have one, you can use the same for setting up Google Analytics.
Now, go to Google Analytics website and create an analytics account.
To integrate Google Analytics with your Shopify store, you will have to create a code. For that, you need to go to the Admin panel of GA and create a property. Give a name to this property, choose the desired settings, and click on Create. A code will be automatically generated for the Shopify integration.
On your Shopify admin panel, go to the Online store and move to the Preferences section. Go to Google Analytics and paste the newly generated code.
Turn on the desired eCommerce tracking - basic tracking for monitoring transactions and revenue and enhanced tracking for monitoring visitors and behavior information according to your requirements and save the changes.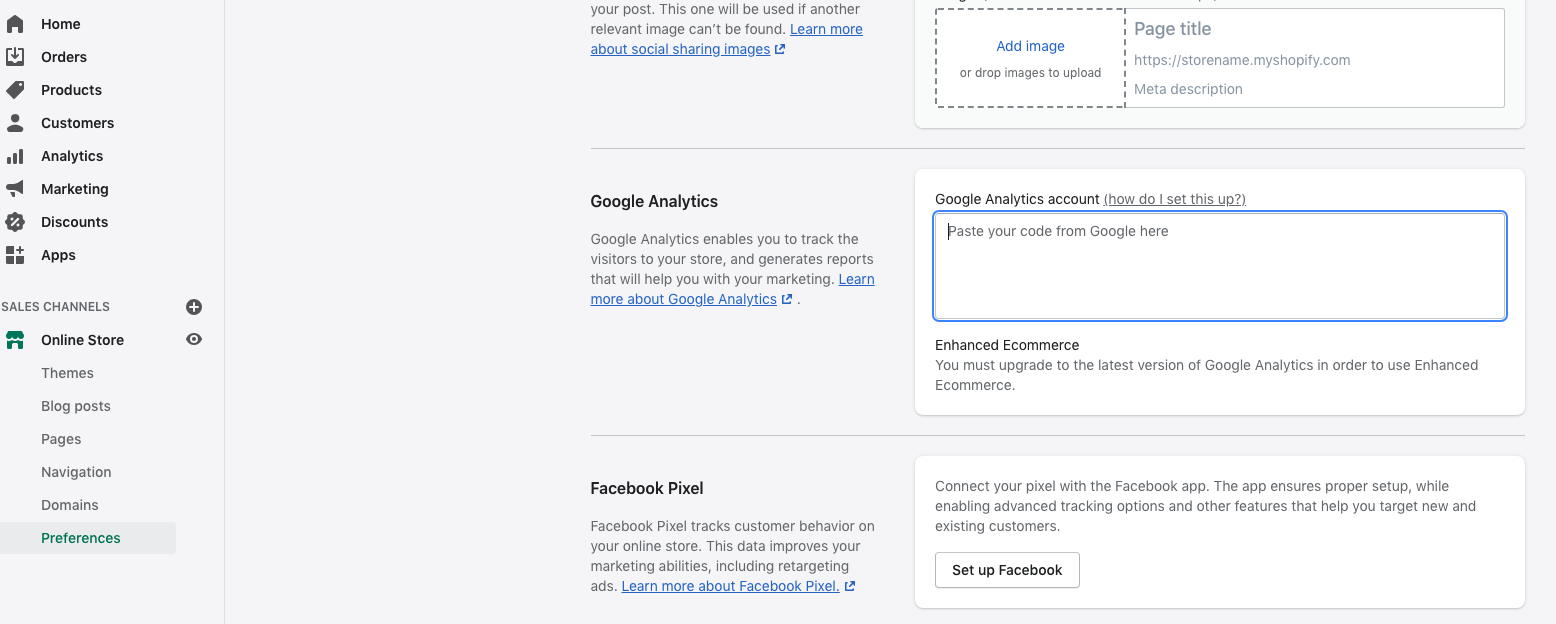 Now that we have learnt how to configure Google Analytics on your Shopify store, let us understand how to leverage GA to gain deep customer insights and the key metrics to track. Some of these metrics focus strongly on visitor engagement and derive intelligent insights with the help of machine learning algorithms.
Sessions - The number of interactions visitors had with your Shopify store during a certain period of time.
Engaged sessions - The number of sessions that were 10 seconds or more, had at least 1 conversion event, or at least 2 page or screen view.
Page views - The total number of views received on a certain page.
Bounce rate - The percentage of time visitors click on your page and leave without taking any action or shortly after launching the page
Average time on page - The average time the visitor stays on a web page.
Average engagement time per session - The average time the visitor was focused and active on your web page.
Engagement rate - The percentage of sessions that the visitor showed engagement.
Conversion rate - The number of sessions that visitors made a purchase.
Predictive metrics - The probability of purchases that would be made over a certain period of time. GA4 leverages machine learning to predict the likelihood that the visitor would make purchases in the next seven days, or the revenue that the store will generate from the purchases, and much more.

Although Shopify offers useful analytics tools, it is advisable to rely on Google Analytics to monitor your store performance. Google Analytics gives you an intelligent overview of how the visitors interact with your online store. You can then leverage these insights to build effective marketing campaigns and scale your eCommerce business to greater heights.