07 Jun 2019
Best Practices to enhance the Conversion Rate for Online Shopify Stores

"We have tried everything but I am unable to get much sales", "how to increase website conversion rates", "how to optimize customer experience". Do such questions bother you? Don't worry, these questions bother even the most seasoned managers. These become all the more important with ever growing competition.That is why it is important to understand how to optimise or enhance the website conversion rate for your online store.
Through this blog, we will explain the factors that affect your conversion rate and how you can skyrocket them to the next level.
What is the website conversion rate?

Conversion rate is defined as the percentage of visitors that land on your website who complete an action desirable for your business like purchasing the products or buying the subscription. One needs to know their end goal to accurately define conversions that align with business goals. And it purely depends upon your business functionalities!
For example, it can include email sign-ups, Online Sales, social media shares, % buyout of the product etc. Knowing website conversion rates is the first step to understand how well your sales funnel is performing.
To bring things in perspective, according to Baymard Institute, 69.57% of online shopping carts are abandoned by prospects. Think about that. For every 100 interested prospects, around 70 of them will leave without purchasing.
An easy way to understand a sales conversion rate would be to see the %age of total transactions to total number of unique visitors on the website.
Thanks to technological advancements, there are a lot of powerful tools such as Google Analytics that will help you record website conversion rate with a few setup steps.
What is a good Conversion Rate?
This is a very common question among all managers responsible to maintain the conversion rates. The conversion rates depend on various parameters like industry, geography, target audience, devices etc. It might be possible that you have a low number of visitors coming to your website but end up buying things, thus giving a very good conversion rate. Similarly, you may have a large volume of visitors ending up only to view the products or prices leading to poor conversion rates. As per industry standards, below is the expected conversion rates:
| | |
| --- | --- |
| Niche Market | Conversion Rate (August 2021) |
| Pet Care | 3% |
| Cars and Motorcycling | 1.59% |
| Kitchen and Home Appliances | 2.86% |
| Sports and Recreation | 1.54% |
| Food and Drink | 2.06% |
| Fashion Clothing and Accessories | 1.63% |
| Health and Wellbeing | 3.04% |
| Arts and Crafts | 3.06% |
| Home Accessories and Giftware | 1.06% |
| Electrical and Commercial Equipment | 0.78% |
| Baby and Child | 0.39% |
Conversion rate by industry (Source: IRP Commerce)
Ecommerce Conversion Rate Data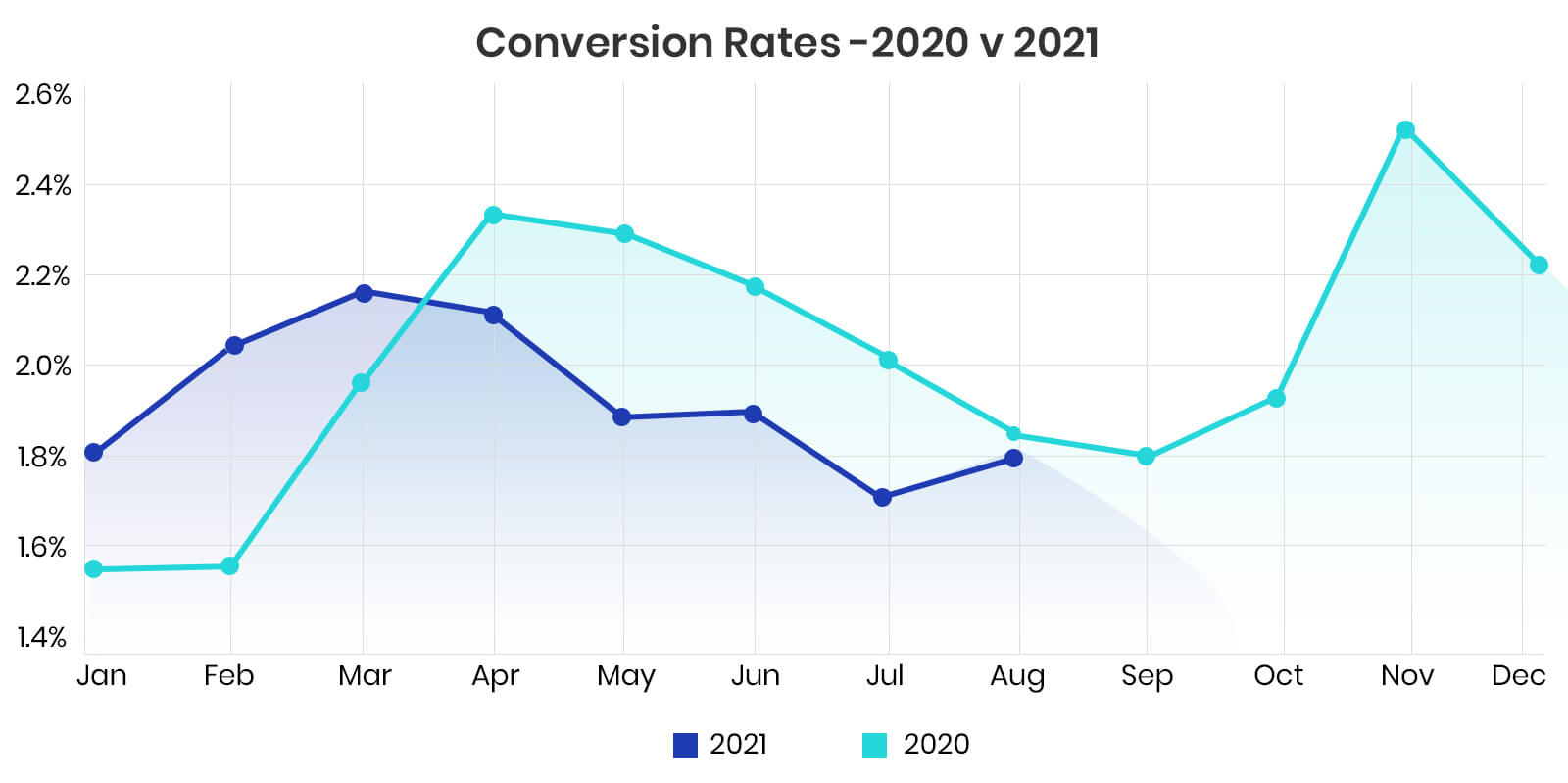 The average conversion rate in all segments of all ecommerce markets decreased by 2.00% from 1.85% to 1.82% in August 2021 compared to August 2020.
Proven ways to increase conversion rate on websites
The ability of an eCommerce site to convert users into customers depends on a variety of factors such as: how attractive the product is, prices of products are as per the expectations of your customers, your ability to explain the prospects vitality of your product, user experience on your website, and transparent offers.
The need for speed
![List view or Grid view for search results](/img/blogs/The need for speed2.jpeg)
In this age of smartphones, the attention span of the consumer has decreased vastly. The consumer is a lot less patient to wait for the pages to load. As per a recent study, if your website takes longer than 2 seconds to load, 53% of the customers lose interest. Hence testing the speed of the website is the first step to ensure to improve website conversion rate
Improve your product images
This is one of the most important ways to build customer confidence. When people go shopping, they like to touch and feel the product. But, unfortunately this isn't the case with online stores. To overcome this, and to give your consumers an enjoyable experience, you can use high-quality images and videos to showcase your items.
The product images that you display must be high-quality and not blurry. The conversion rate will be only high when the prospects are able to understand your product clearly. Remember, pictures and videos speak louder than words! As per a study, compelling visual pictures can help online store owners generate up to 94% more views.
Enhance the shopping flow
The consumer would not want to do a lot of back and forth while finding his required product. He should be able to get to his requirement at the earliest with minimum hassles. You can try the below steps to make the customer journey enjoyable:
The Site navigation should be simple. The search textbox should be easily visible. If possible, it should auto-complete the product as the customer starts typing.

The customer is easily able to search for the required product.It should be able to search for synonyms, abbreviations, typos etc. Invest in a good search product for your website that can deliver fast and relevant results.

Make buying decisions for the customer as easy as possible. Add filter options on the page to speed up the buying process.

The steps from landing on the website till he checks out his cart should be logical. Ask any of your non-internet savvy friends to go through the process and work on the feedback.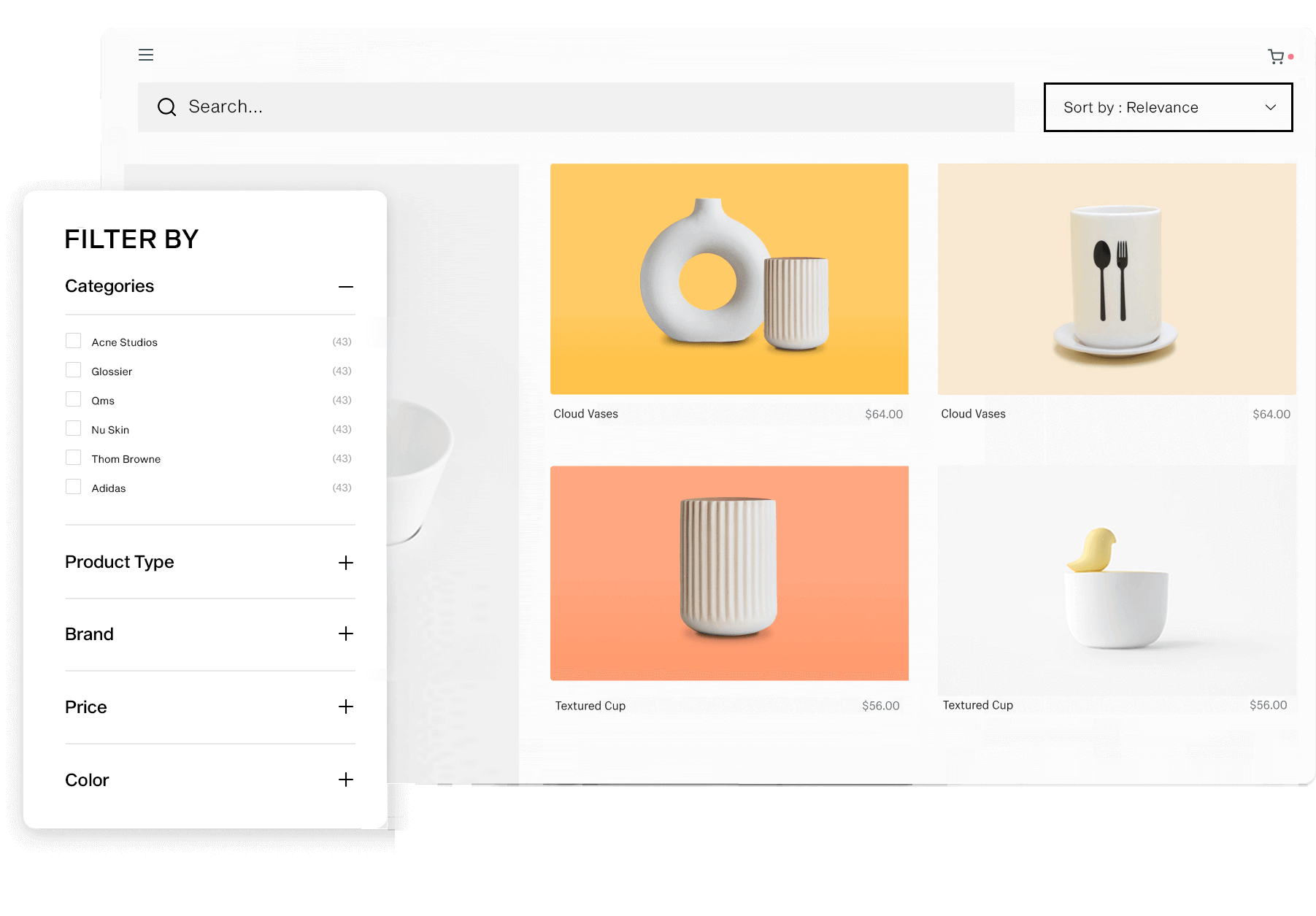 Optimize the Checkout Process
If your checkout process isn't simple or if it takes too much of a customer's time then you might lose a lot of customers right when they are ready to buy. People abandon the cart if they feel that the process is too complicated and you lose out your prospects to your competitors. Opt for clear progress indicators as it can motivate people to complete the checkout process and they'll be able to see how far they are from completing the checkout process. About 18% of people abandon their shopping cart because of a long and complicated checkout process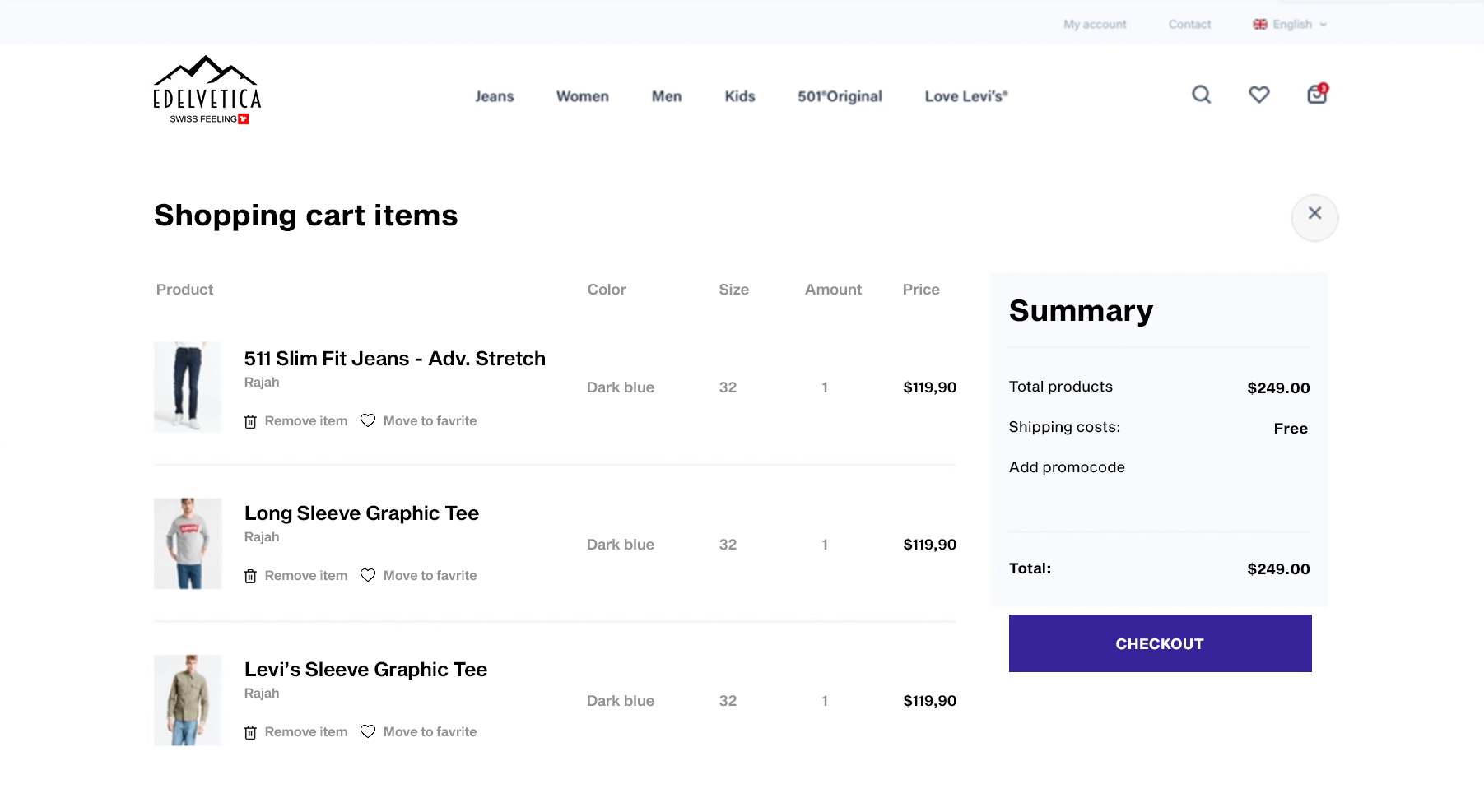 Provide Live Chat Support
Live chat software is the new trend that we are observing in the user-friendly websites. They offer the following values to the businesses:
Providing a delightful customer experience

You will be able to assist them with navigation on the website

Understand their requirements and provide them with the optimum solution

Cater to larger audience at the same time

Quick responses leads to consistent sales

You can also get personalized feedback on what's working for you and what needs improvement
FAQs are easily accessible
It helps build a lot of customer confidence if we are able to answer his queries and doubts on the page itself. Sometimes, the customers are reluctant to use the live chat software due to various reasons - lack of time, shyness etc. It is important to provide answers to relevant questions and that they are easily accessible to the customer. Intelligent FAQs also help save customers' and yours' time as repetitive queries can be put under FAQs. Some of them could be:
Clearly mention your return or exchange policy

Mention about the warranties applicable

Mention ways to contact you in case of any service issues

Various billing and payment options available

Availability and delivery timelines of the products
Ratings and Reviews
Good ratings and customer reviews about a product go a long way in building the user's confidence to buy the product. Incentivise the customers who have bought the product to share the feedback about the product. This can include an extra 5% discount on the next purchase.
Social media presence
In this digital age, the first thing customers look for is social media presence. The reason behind it is that the well-aware customers want authentic products that add value instead of promotion based average products. As a result, they look into case studies, advice from friends, families, colleagues, or social image. They watch out for customer reviews and testimonials, they look for stores that are real instead of one trying to burn a hole in their pocket. That's why business owners should develop strategies to promote their online presence now. The business must offer freebies or discount coupons to the prospects and loyal customers to avail good reviews.
Meanwhile, it is also increasingly vital for businesses to reach social media-friendly customers because their power continues to grow in the coming years. Indeed, social selling has become the new-in-thing for the millennials.
Personalisation is soon becoming the key to keep the customer engaged on your website. There are various analytics tools available in the market that can be used to track the behaviour of the visitors and personalise their experience. Higher the personalisation, greater is the conversion rate. However, it may also have its downside where the customer may feel an invasion of privacy. Those technologies can be used once we have taken the preliminary steps to increase the conversion rate on our online store. We shall discuss the same in detail in a separate post.
How will you increase sales?
The above-mentioned tips have one thing in common, Customer experience. The customer experience is all about how your consumers perceive your brand and how your website can give them a good experience that generates more sales. Also, you must remember that every eCommerce business is different, so there is no right or wrong conversion rate for all. The techniques that you might opt for can be different from others and still do wonders. Happy Selling!